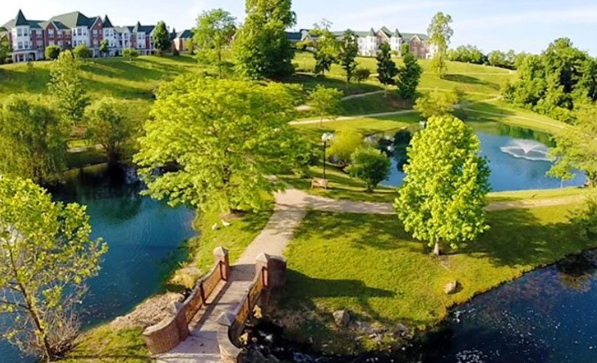 It is a community unlike any other and a location that looks like something straight out of an award-winning piece of artwork.
The hills. The valleys. The ponds. The castle-like architecture. The perfectly manicured flowers and trees. The peace and tranquility. It is a place that individuals have chosen to call home for over 25 years, and it is a place near-and-dear to the hearts of many in the Marshall University family.
Of course, we are talking about Woodlands Retirement Community.
Nestled atop a picturesque hilltop, surrounded by 171 acres of beautiful, sprawling landscape in the heart of Huntington, West Virginia, Woodlands is a premier Continuing Care Retirement Community for individuals 55 and over. Woodlands has the distinction of being the region's only LifeCare Community, and it is a community that encourages wellness through an active, independent lifestyle.
To many, however, it is simply known as home.
"Of course, we could talk about the beautiful hilltop setting and the spectacular views, but that is not what makes Woodlands truly special. What makes Woodlands special are the people, the sense of community, and the connection to Huntington and the Tri-State area," said Juliette Buffington Tomlin, Marketing Director at Woodlands. "What makes the location so great is Huntington itself. This is truly home, and you can feel that. A lot of the residents were fortunate enough to stay close to home and close to old friends, while making new friends and providing them and their families a peace of mind.
"At Woodlands, we encourage wellness and active living. We are a 55+ community that offers something for everyone. There are many amenities and activities that are social, physical, educational, and spiritual based. That is the value that we offer, on top of having a beautiful surrounding."
The history of Woodlands is one of both determination and compassion to create a caring and safe home for elderly residents of the Huntington area.
In 1922, Bradley W. Foster established the Foster Foundation with a generous financial gift aimed at providing a home for care of the elderly. In 1925, the mission was realized when the Foster Memorial Home opened on Madison Avenue in Huntington. "The Home" became a Huntington fixture for next 75 years.
In 1985, Rev. Gray Hampton, a member of the Foster Foundation Board, introduced board members to the continuing care retirement community (CCRC) concept. Under his leadership, the board developed a plan to broaden the scope of the aging Foster Memorial Home into a CCRC in Huntington, West Virginia. Starting in 1988 and over the course of a decade, Chairman William F. "Bill" Agee and the board turned that vision into reality.
On August 19, 1996, Woodlands opened with 111 apartments at almost 100 percent occupancy. Over the next few years, 61 additional apartments and 23 cottages were built by those who wanted to preserve their residential independence. In 2004, the Assisted Living/Health Care wing of Woodlands was expanded with the substantial involvement of Mrs. Joan C. Edwards and the West Virginia Episcopal Diocese, raising the capacity to 88 units.
"When I moved back to Huntington seven years ago and had the blessing of going to work at Woodlands, my mom and so many of her friends lived here. So it not only feels like family, for many of us, it is family," Tomlin said. "That dedication helps us provide the highest level of residential senior services for individuals from a variety of backgrounds.
"I love what I do. Our staff, some of which have been here for all 25 years, embodies this mission through their passion and desire to serve our residents so they may enjoy life to the fullest."
Through that unique connection to Huntington and the greater Tri-State area, Woodlands has earned the distinct reputation as a popular retirement community for alumni and former faculty and staff of Huntington's very own Marshall University.
And because of that, many of the residents remain forever involved in the happenings of Huntington and Marshall.
"Because of that active community, our residents are able to remain supportive of our local community," Tomlin said. "Not only through Marshall, but so many of our people are involved in the Artists Series, the symphony, the art galleries. In essence, we have been blessed that Woodlands is right here available to the residents of the area. It means that the people of this region don't have to move away to where their children live. Because of Woodlands they can stay right here in Huntington. As I have seen, more and more former Huntingtonians are moving back to Huntington to retire."
Of course, with any mention of Huntington comes a direct correlation to Marshall University.
And one of the key ways in which the residents of Woodlands stay connected to the local university is through Marshall Monday, a unique program presented by the Marshall University Foundation, Inc. and the Marshall University Alumni Association. Marshall Monday brings the university and its programs, faculty, and students to the residents and provides updates and opportunities for residents to remain connected to the university.
"Woodlands' continued relationship with Marshall University includes much excitement from residents as they are provided the opportunity to participate in activities such as Marshall Monday, Marshall Music, and even a Spirit Week in honor of Marshall's homecoming," said Molly Watson, Director of Activities at Woodlands. "These types of activities keep residents connected and gives them a sense of being back in college while supporting their favorite university."
Marshall Monday, in particular, has been a very popular part of the Woodlands schedule. Taking place on the first Monday of every month, the program brings different speakers to Woodlands to talk about current issues, exciting changes, and general updates from different areas of campus. The residents also have an opportunity to return to campus for special events, such as Homecoming and sporting events.
"Many Woodlands' residents have had a direct affiliation with Marshall for many years. Many residents are alumni, parents of children or grandchildren who are Marshall graduates and even many are former employees or faculty," said Jane Fotos, MU Professor Emeritus and Woodlands resident. "These folks look forward to hearing what is new at Marshall, what is being planned for the future, and meeting and being updated by some of the Marshall faculty and leadership who are involved in various programs.
"Of course, Marshall athletic events are always a favorite, especially ones televised on our big screen. These televised events always draw a big crowd who loudly cheer for the Herd while others climb on the Woodlands bus and head for the Marshall campus. We love Marshall and look forward to each Marshall Monday."
Beginning in 2021, Woodlands will be expanding its partnership with Marshall University through a unique collaboration with the Marshall University Alumni Association. This partnership will see the retirement community partner on key events on the alumni calendar, including being prominently featured during Homecoming, as well as Woodlands residents being showcased in alumni publications throughout the year. It is just another way in which Woodlands and Marshall University continue to have a direct relationship in offering quality care for 55+ residents, many of whom consider themselves proud sons and daughters of Marshall.
"Retirement in a university town is attractive to so many around the country because of the rich educational, cultural and sports opportunity. It is no different for Woodlands and Marshall," said Aubrey King, a Marshall alumnus and resident of Woodlands. "Marshall Music brings outstanding faculty and student performers each month. Marshall Monday features President (Jerry) Gilbert and other university leaders explaining new initiatives and priorities. The Marshall Emeritus Club holds its meetings at the Woodlands. The executive director of the Marshall Alumni Association is always in attendance at these events to answer questions and provide support. As for sports, Marshall has no more passionate supporters than the good folks at the Woodlands.
"With this history, Marshall and Woodlands are looking forward with great anticipation to this new partnership. We expect our connections to grow even more to the benefit of both sides."