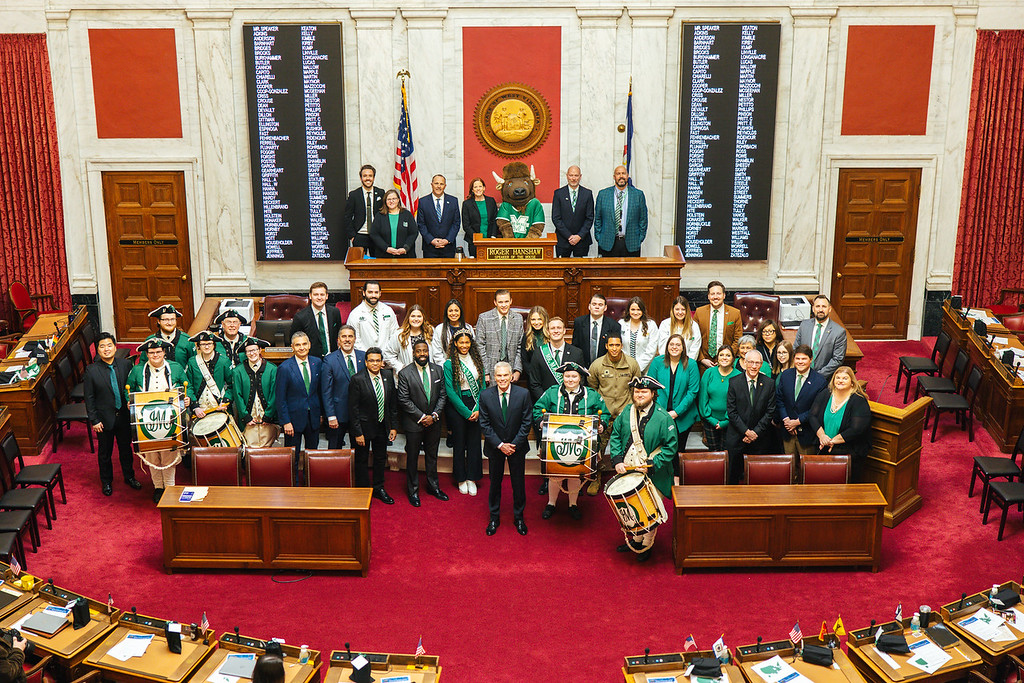 A special day for Herd Nation!
Marshall Day at the Capitol gives the Legislature a chance to celebrate Marshall's history as well as its current and future impact on the state. The day also gives alumni in Charleston a chance to champion their alma mater in front of the entire state.
At each event, dozens of tables showcasing what the university has to offer dons the Capitol halls, while the John Marshall Fife and Drum Corps and Marco entertain the House and Senate chambers. Both chambers read resolutions each year declaring the day as Marshall University Day across the state.
About MU Day at the Capitol
This annual event provides an opportunity to occupy the rotunda and foyers leading to the House and Senate chambers to showcase Marshall University for our state leaders. University departments are invited to attend and provide a display with information promoting your area. You can learn about this event in the links below or by contacting the Office of Alumni Relations at alumni@marshall.edu or (304) 696-3134.
2024 MU Day at the Capitol
The 2024 Marshall University Day at the Capitol has been set for Wednesday, January 31! Be sure to mark your calendar and prepare to join us for another wonderful event showcasing the best of Marshall!
Registration
Marshall University departments and organizations are asked to register for a display table at the annual Day at the Capitol. Each displaying department/organization will be provided a table and two chairs, along with a lunch generously provided by the Office of the Provost. Electricity is limited, so presenters are asked to arrive at the capitol complex early to assure a favorable spot. All display locations are first-come, first-served.
Capitol Security
CLICK HERE for important Capitol complex security information.
#MarshallUDay