Why do we celebrate Homecoming?
Homecoming is a long-standing American tradition where colleges and high schools welcome alumni back to campus and the community. The earliest homecoming celebrations centered around alumni football games.
Today, homecoming still shares many of these same features but has broadened its reach. Now it is an annual tradition where alumni, students, fans and community members come together to honor a school's tradition and history. At Marshall, Homecoming is an important tradition that has been celebrated for decades.
From the inaugural event to today, Homecoming at Marshall University will always be about coming together to celebrate what makes us a Herd.
Join us this year to celebrate, participate, remember, and reconnect. And when you're sharing your homecoming moments, make sure to tag #HerdHomecoming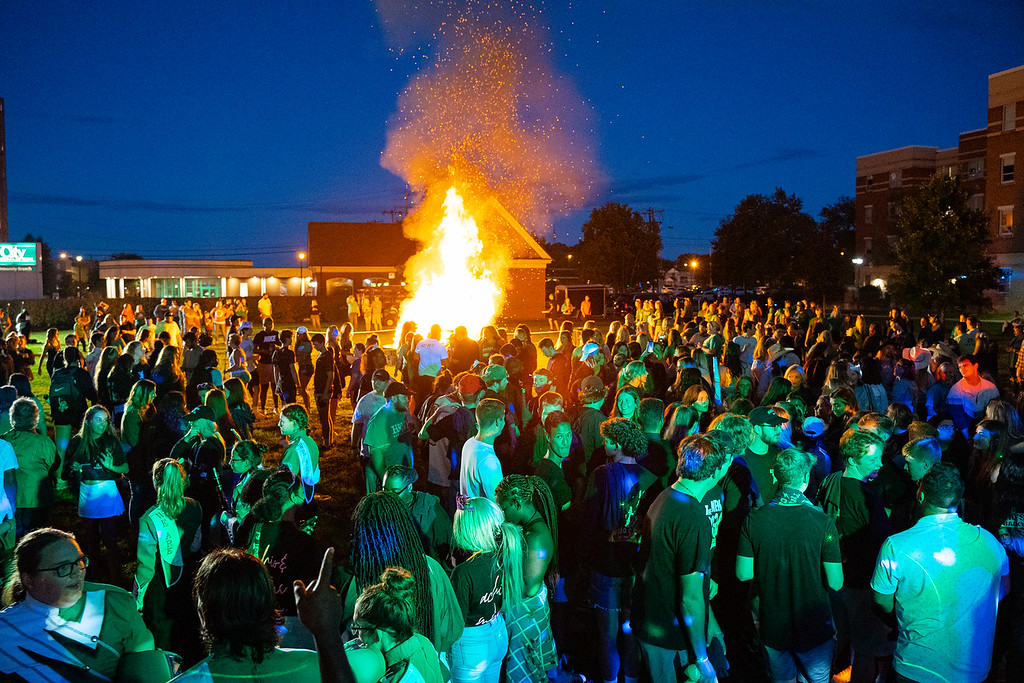 Homecoming History
Marshall University has been celebrating homecoming since 1895!
Marshall alumni, students, faculty and fans have always felt a strong connection to the university, feeling like it is a home away from home. That school pride has led a strong bond that makes Homecoming a very special time of year and an important event on the calendar of many members of the Marshall Family. And that pride has carried over to the athletic side as well. The Thundering Herd has always been strong in Homecoming games, owning an impressive 67-46-8 all-time record (as of 2022) in Homecoming games. Since the opening of Joan C. Edwards stadium in 1991, Marshall is 27-5 in Homecoming games including a 15-game win streak from 1993-2007 and a 9-game streak from 2013-2021.
Along with football games, the annual homecoming parade is one of the longest-lasting traditions during the week of homecoming events. Throughout the week you can find a busy schedule of alumni and student activities throughout Huntington. Other popular events include a bonfire following the parade, Picnic on the Plaza, Stampede 5K and annual Marshall Family Tailgate.
Let's Go Herd!

Homecoming Traditions
One of the most unique (and fun) parts of homecoming is the theme.
Selected by a committee of students, staff and alumni, the homecoming theme drives the entire week of activities. From the annual office decorating competition to the homecoming parade, the homecoming theme helps bring the entire campus together to celebrate and enjoy homecoming week.
Marshall's homecoming theme tradition both honors the university and provides an opportunity for the university community to have a little fun in their celebration of Marshall! Past themes have included fun celebrations centered around Mardi Gras, pop culture from select decades, trips to the past and even trips into space.
PAST HOMECOMING THEMES
2023 – Super Marco: Level Up
2022 – Fun in the Sun
2021 – Back and Better Than Ever
2020 – Herd @ Home
2019 – Marshall and Beyond
2018 – Home on the Range
2017 – Overthrow the Monarchs
2016 – Thundering Twenties
2015 – Blast from the Past
2014 – Marco's Favorite Heroes and Toughest Villains
2013 – Mardi Gras Marshall Style
2012 – Happy 175th Birthday: Remember the Past, Thunder into the Future
2011 – MU Through the Decades
2010 – It's a Thundering Herd Round-Up
2009 – Tradition to Treasure
2008 – Go Green – Go Herd
2007 – Bring on the Thunder
2006 – Lights, Camera, We Are Marshall
2005 – R-O-C-K Conference USA
2004 – The Final MAC Attack
2003 – As Green as it Gets
2002 – The Magnificent World of Marshall
2001 – Greenest Show
2000 – Celebrating Success at the Thundering Herd Cafe
One of the most honored traditions of Homecoming is the naming of the parade and event grand marshal.
Honoring alumni and prominent members of the Marshall family, the Homecoming grand marshal leads the parade and is a guest of honor at events throughout the week.
Recent Grand Marshals:
2023 – Gary & Jo Ann White
2022 – Jim Datin
2021 – Young Thundering Herd
2020 – Allen Meadows
2019 – Bob Lang & Gary Ray
2018 – Jim & Bobbie Farley
2017 – Roy & Pam Tabb
2016 – Red Dawson
2015 – Joseph & Omayma Touma
2014 – Jim Justice
2013 – Ben & Jan Hale
2012 – Art Weisberg
2011 – Anthony Crutchfield
2010 –
2009 – Troy Brown
2008 – Joe Johns
2007 – Mike Bartrum
2006 – Reggie Oliver & Arlen Escarpeta
2005 – David Stallings
2004 – Tom Skeeter
2003 – Verna Gibson
2002 –
2001 – Bob Wise
During halftime of the Homecoming football game, Marshall University crowns Mr. and Miss Marshall.
This long-standing tradition features upstanding young students vying for an opportunity to represent Marshall University for the upcoming year.
2023 MR. AND MISS MARSHALL
Mr. Marshall – TBD
Miss Marshall – TBD
2022 MR. AND MISS MARSHALL
Mr. Marshall – Calvin Hunter
Miss Marshall – Nevaeh Harmon
2021 MR. AND MISS MARSHALL
Mr. Marshall – Zach Ihnat
Miss Marshall – Caroline Kinder
2020 MR. AND MISS MARSHALL
Mr. Marshall – Mel Thomas
Miss Marshall – Kristen Shomo
2019 MR. AND MISS MARSHALL
Mr. Marshall – Parker D'Antoni
Miss Marshall – Emma Ellis
2018 MR. AND MISS MARSHALL
Mr. Marshall – James Prentice
Miss Marshall – Jessica Yurkovich
2017 MR. AND MISS MARSHALL
Mr. Marshall – Michael Andry
Miss Marshall – Emily Kinner
2016 MR. AND MISS MARSHALL
Mr. Marshall – Killian Ellis
Miss Marshall – Morgan Zerkle
2015 MR. AND MISS MARSHALL
Mr. Marshall – Nigel Wallace
Miss Marshall – Izzy Rogner
Homecoming 2023
Alumni, we are thrilled to welcome you back to campus for Marshall Homecoming 2023, with the football game on September 30, 2023. We hope that you are able to reconnect with friends and faculty, visit some of your favorite spots around campus and the community, as well as see some of the ways we continue to grow.
Huntington, you make this a great place to live, work and study and we are proud to call this community home. We want you to know that you are invited to celebrate homecoming with us because what you give to the university and its students is a significant part of the Marshall experience.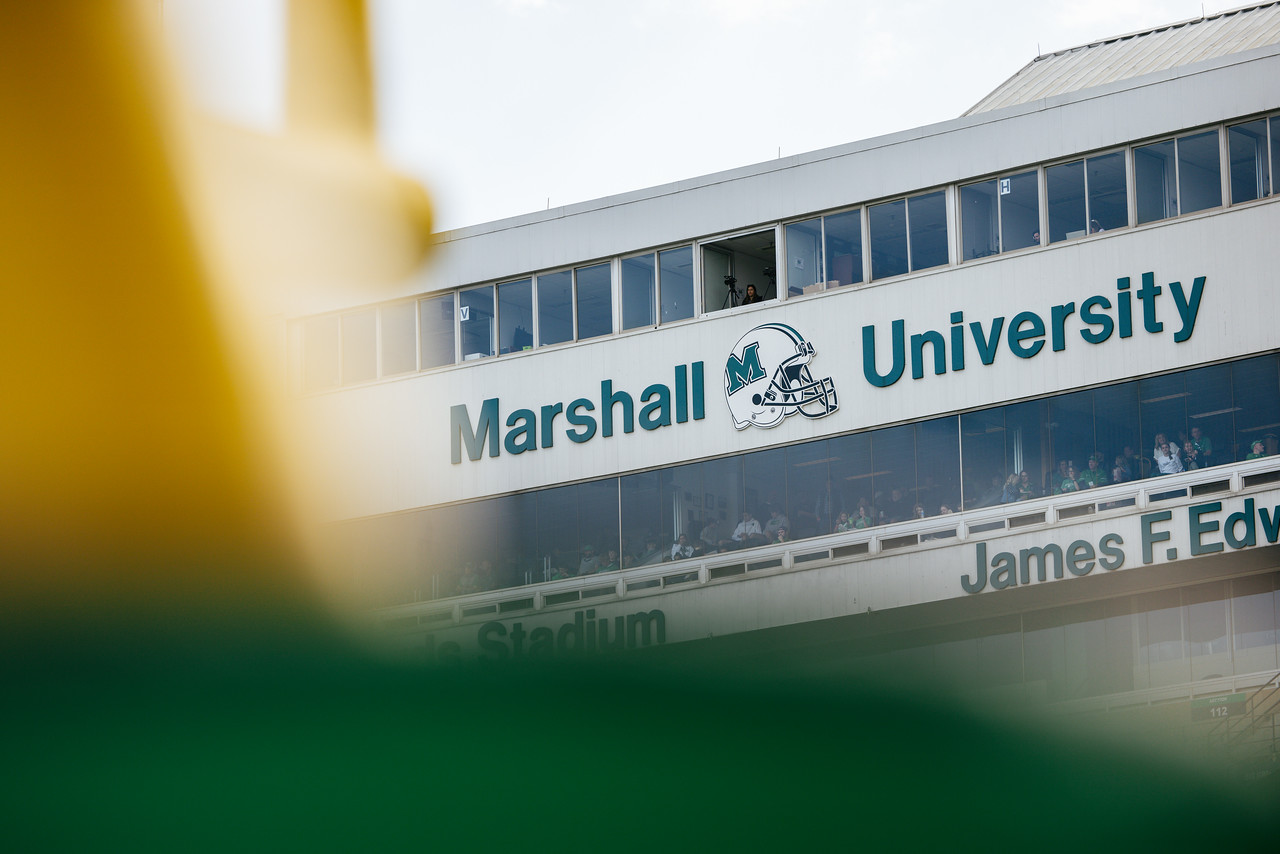 Info For Alumni
If you are traveling to join us for Homecoming, enjoy these helpful links courtesy of our friends at the Huntington Area Convention & Visitor's Bureau!
HOTELS – Hotels tend to fill up quickly, so make your reservations as soon as possible.
BED & BREAKFAST – Looking for something different? Check out these options.
DINING – If you plan on dining in town, you can find some of the local favorites here.
SHOPPING – Do some shopping while in Huntington at these great spots!
ATTRACTIONS – Here are some other stops while you are in town.
With homecoming events throughout the week, there is something for you to do whether you are staying for the week, weekend, or just for game day.
Join us for these community-friendly events. Don't feel the need to leave the kids at home during homecoming week! Marshall homecoming features a number of events that kids and families will love.
HOMECOMING BONFIRE & PEP RALLY
REUNION CELEBRATION – 25TH AND 50TH CLASS REUNIONS
CLICK HERE to view an interactive map of campus. If you are attending an event on campus, please note all available parking locations.
While you are in town, be sure to stop by Brad D. Smith Foundation Hall, home of your Erickson Alumni Center! Check out the Rotunda, travel back in time with our artifacts covering the history of Marshall University, check out the Nate Ruffin Alumni Lounge showcasing Marshall sports décor and relax in one of the most beautiful buildings on campus!
Opened in 2010 and named after prominent businessman, Marshall graduate, and donor Brad D. Smith, the Brad D. Smith Foundation Hall houses offices for the Marshall University Foundation and Marshall University Office of Alumni Relations.
CLICK HERE to learn more about the history of the Marshall University Foundation.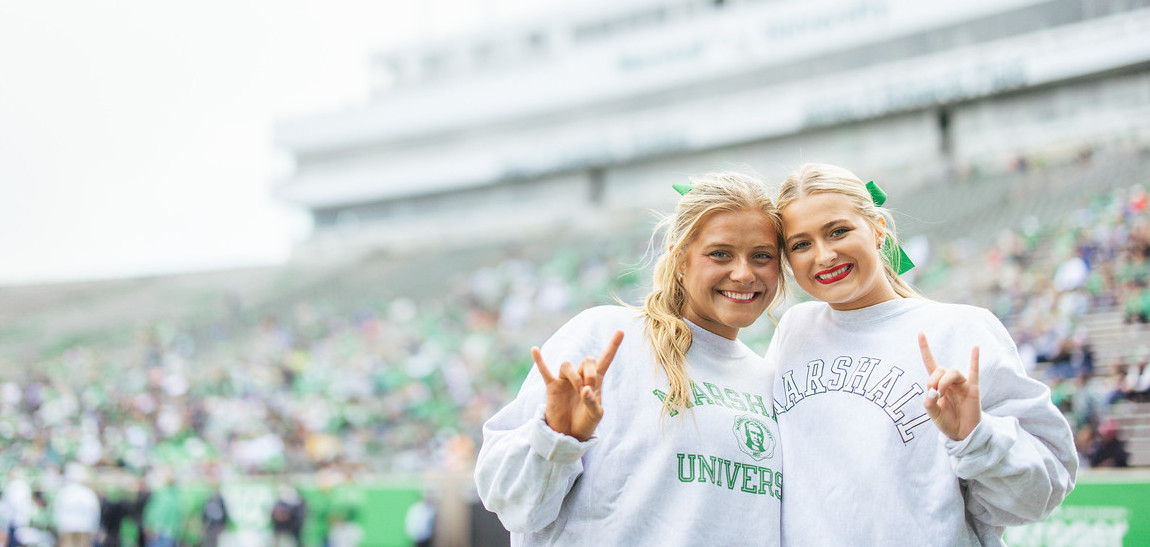 Let's Go Herd!
Come back to West Virginia to celebrate the Herd spirit and feel all the feels! See long-lost friends and meet new ones. Belt out the Fight Song. Discover the latest on campus. Snap a selfie with Marco at the big game. Find it all at Marshall!