What is Annual Giving?
Annual Giving provides critical support for the university's annual operating budget, ensuring that its programs continue to be of the highest quality and helping to keep tuition as affordable as possible. Annual Giving donations open the benefits of a Marshall education to talented students from a variety of backgrounds, allowing the university to recruit a more diverse student body and create a campus community reflecting the world Marshall graduates will enter.
Annual Fund
Marshall's enduring financial goal is funding academic scholarships and need-based grants for deserving students. That's why 100% of the Annual Fund helps meet that challenge head on. With 77% of Marshall students receiving some form of financial aid—and most of that assistance provided by Marshall—your support of the Annual Fund is critical. Your gift makes a Marshall education possible and accessible to even more students.
Designated Giving
Annual gifts may be designated to enhance the student experience, including new and upgraded technology and equipment, academic programs, student services and creative curricula.
Your gift is your participation
There is no limit to the impact of a Marshall education. The value of a Marshall education begins with your support. Strong universities have healthy alumni participation, and you can elevate Marshall's reputation by participating in giving as a member of your alumni community. Thanks to you, the strong, vibrant Herd Nation grows.
Participation raises the value of every Marshall degree
Giving provides an important vote of endorsement for Marshall
Increasing our alumni participation rate helps raise our a national rankings among other colleges and universities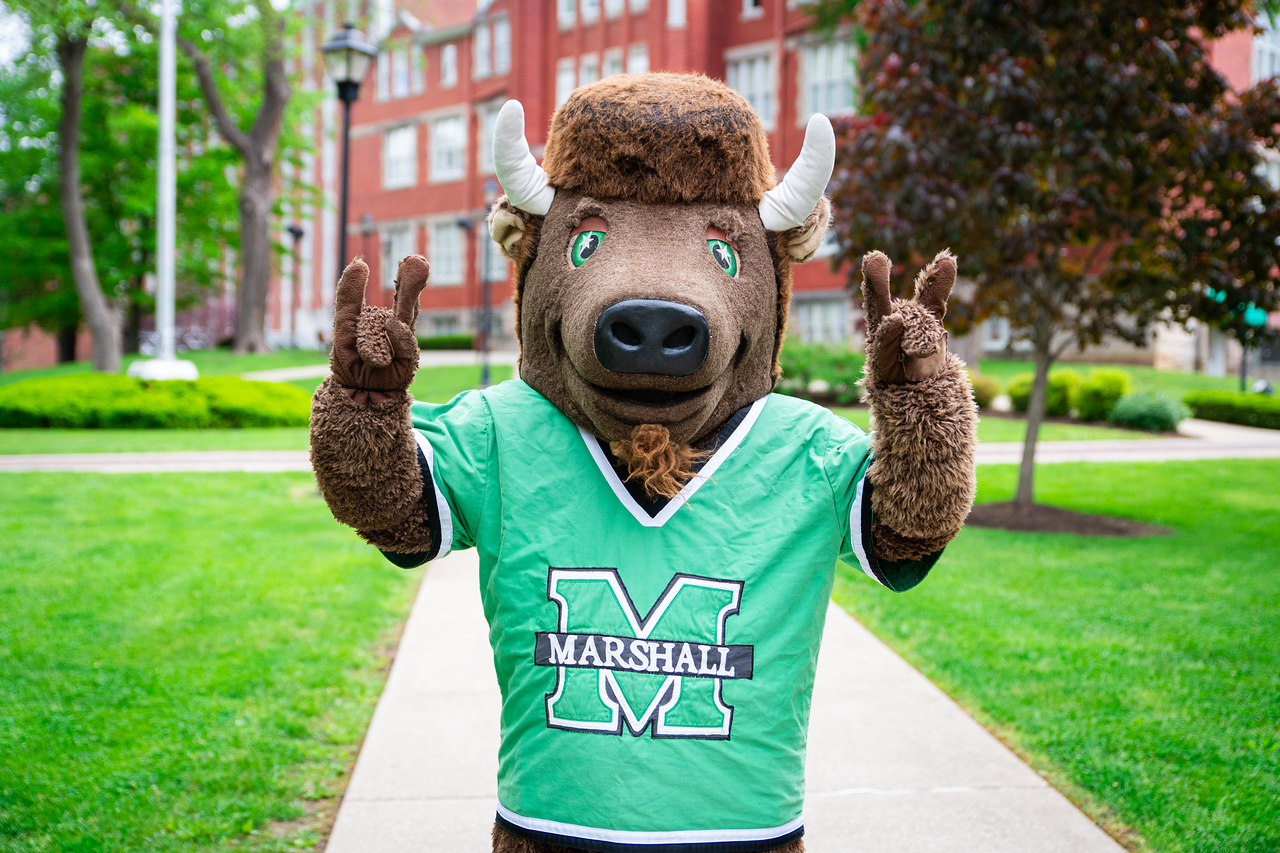 How do I make my gift?
You can make a gift to Marshall by calling (304) 696-6264, making a gift online, or by mailing a check to:
Annual Fund
Marshall University Foundation
519 John Marshall Drive
Huntington, WV 25703
Recurring Gifts
In addition to making a one-time gift, you also have the option of setting up monthly contributions. This is a great way for you to make a gift to the iniversity without having to write a check, pay postage or receive a reminder letter or phone call. By charging your credit or debit card each month, you will be breaking your gift into manageable contributions and making a tremendous impact on Marshall.
To set up monthly payments check "I would like to make Scheduled Payments" on the giving form or ask about scheduled payments if you make your donation over the phone.
Matching Gifts
Hundreds of corporations match the charitable contributions made by their employees, directors, employee's spouses or retirees. You may double or even triple your campaign gift by checking with your company's human resources office to see if they participate in a matching gift program. If they do, simply request and complete your company's matching gift form and include it with your gift to Marshall University.
Contact Us
For more information about Annual Giving, please contact Griffin Talbott, director of annual giving, at griffin.talbott@marshall.edu or (304) 696-6214.
I'm Ready to Make A Difference
Join the thousands of Marshall University alumni around the world making an impact at Marshall through annual giving.
Give Today
Why should I contribute to the Annual Fund?
The value of a Marshall education – Marshall University provides students an education of the highest caliber. Marshall attracts bright, motivated students who welcome the opportunity to collaborate with dedicated faculty. These students thrive in an environment enlivened by the variety of class/degree offerings, the latest and greatest technologies including online course, and the desire to give back to the community. Marshall students graduate with much more than a degree; they welcome learning opportunities and gain knowledge and experience they will use throughout their lives.
High standards for its students; high standards for itself – Just as Marshall University pushes its students to great achievement, the university strives to provide everything necessary to maintain a high quality learning environment. Only a portion of the cost of educating each student is paid for by tuition and state funding; for the rest, the university relies on private support from alumni and others. Marshall depends on gifts from alumni, parents, friends and the Marshall community to give students the quality, well rounded educational experience that has always been its focus.
Show you believe in Marshall – As an alumnus or friend of Marshall University, you know that Marshall is a special place. Your education and Marshall experience was supported by gifts from others-and now you can return the favor. No matter the size of your gift, by supporting Marshall you are giving others the opportunity for a similar experience, whether from the classroom or at a University sponsored campus event.
Every Alum. Any Amount. Every Year. – Each gift to the Annual Fund is important. Gifts impact the lives of students by providing a margin of excellence at Marshall University. Giving to the university also gives alumni an opportunity to participate at Marshall and to help today's students receive the top-notch, affordable education they deserve while maintaining the integrity of the degree you received as a graduate of Marshall.