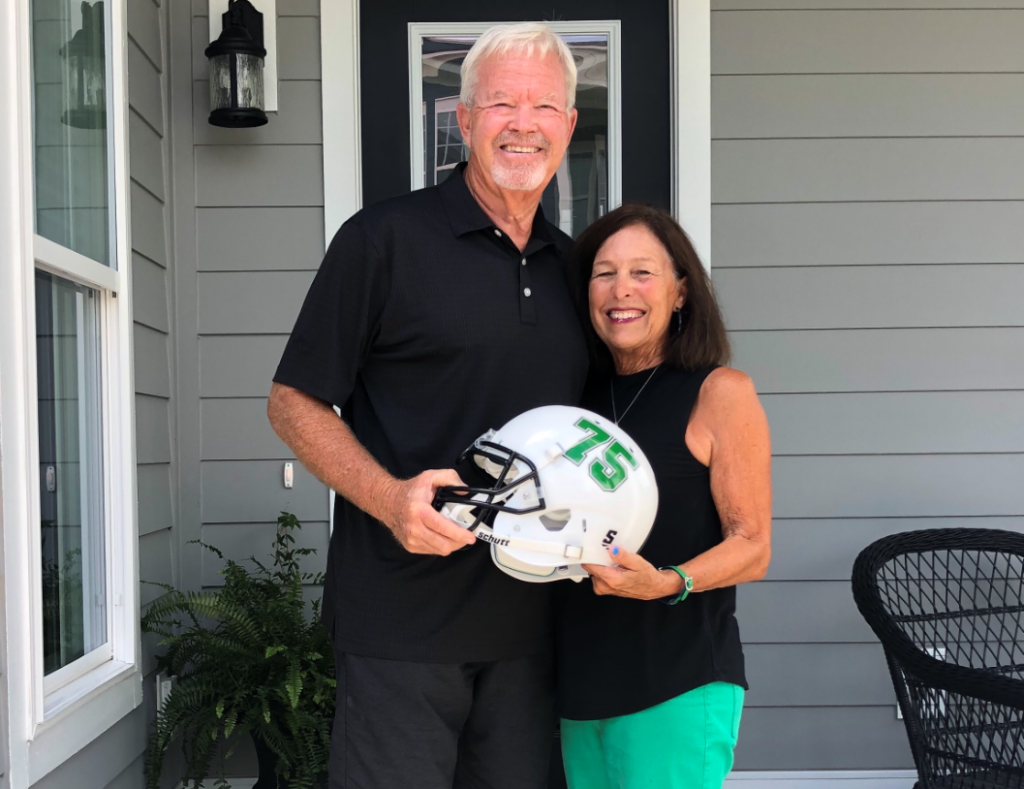 Like any institution of higher learning, Marshall University means a lot of things to a lot of different people.
To some, Marshall is simply a school. A place to take classes, earn a degree, and enter the workforce.
For others, Marshall represents the dream of bigger things to come. It is a place where they will learn the lessons that will help them achieve their goals and ambitions in life.
And then there are those who consider themselves a part of the university. Maybe they grew up in a household of Marshall alumni. Maybe they met friends, a spouse, and generated lifelong bonds that forever connect them to the institution. Maybe Marshall changed their lives for the better.
And then there is Lucianne Kautz-Call.
Call is a staple of the Marshall community. You can find her at Thundering Herd sporting events decked out in the latest green and white fashion or simply representing the university in her community. She is also a doer, helping organize the Fountain Ceremony each fall honoring the 75 souls who perished in the 1970 crash of Southern Airways Flight 932. She has even helped found and preside over multiple alumni chapters in the southeast.
But Call's connection to Marshall runs much deeper than simply attending as a student and helping plan events. It runs much deeper than representing the school as a cheerleader and community leader. It even runs much deeper than meeting her husband, Rick, in the Student Union and getting married during her senior year in the spring of 1970.
In fact, Call is as much a part of the fabric of Marshall University as the leaders who guide the institution daily.
"This really is just the story of a girl who was born into a Marshall family," Call said. "I was born in St. Mary's Hospital, just down the street from the university, and enjoyed my childhood in Huntington, West Virginia. I am an ordinary girl, except when it comes to Marshall football."
Indeed, Call has a special bond with Marshall thanks, in large part, to her father, Charles Kautz. Kautz was a gifted coach, educator, and athletic director at Marshall and was one of the 75 individuals who lost their life in the tragic plane crash that took the lives of many Marshall players, coaches, staff, fans and community members returning home from a football contest against East Carolina University.
Of course, Kautz was much more than just a victim in one of the worst accidents in U.S. history. And Call has dedicated her life to preserving the memory of her father and all of those lost on November 14, 1970.
"Our dad had an unmatched love for Marshall University. It was his life's ambition to play football since starting there in the first grade at the Marshall Lab School," Call said. "Dad was a family man, a coach, an administrator, and a person of Godly character. He never met a stranger. His passion was supporting students and athletes to strive for perfection in whatever their endeavors."
Kautz played for the Thundering Herd under the guidance of coach Cam Henderson while earning his BA from Marshall in 1949 and his MA in 1953. He served as a marine in World War II and the Korean War before returning home and entering the world of high school and college athletics.
Kautz was a regional hero in high school football, compiling a 74-25-1 record as head football coach at Ceredo-Kenova in West Virginia and Rock Hill and Ironton high schools in Ohio, before joining the Marshall football staff in 1961. There, he recruited many great players over the years, including Larry Coyer, Mickey Jackson and Bobby Pruett.
He eventually transitioned from coaching to an administrative role as Assistant Athletic Director in 1969 before being named Athletic Director at Marshall in November of 1969. During his tenure, he guided the reconstruction of Fairfield Stadium and helped enhance the facilities in and around the various athletic programs. Kautz was posthumously inducted into the Marshall Athletic Hall of Fame in 2012.
Thanks to the example set forth by her father, Call has lived a life dedicated to helping others. And also like her father, Marshall University has remained at the center of it all.
"Marshall made a difference in my life," Call said. "So I challenge others to set on a course to become significant in the lives of everyone they meet. No matter where you roam wearing the Kelly green and white, someone will say 'Hey, we are Marshall.' And that means something."
Call chose to attend Marshall in the summer of 1967 where she earned a degree in Elementary Education in 1971. During her time at the university, she spent time working in the ticket office and served alongside her sorority sisters at Sigma Sigma Sigma.
She met her husband Rick and got married in June of 1970, with her father walking her down the aisle.
After graduation, Call was hired in Cabell County as an elementary teacher and taught in several schools in the county. She also continued down the same path as her father as a coach, serving as the girls' tennis coach at Barboursville High School and cheerleading coach at Cabell Midland High School. In the summers, she also served as a water safety and swimming instructor.
"The many teaching experiences and volunteering services prepared me with the knowledge of unleashing a student's creativity for their journey in life," Call said. "When I meet these students today, I so love to see their enthusiasm as they tell me about the career path they have chosen. I met one of my former students recently and he went on to explain to me that he is an Associate Professor of Digital Forensics and Cybersecurity at Marshall. That was fascinating to me because Marshall didn't even have that curriculum to choose from in the 70s."
In the early 2000s, Call made a shift in her life from education to travel, broadening her horizons as a flight attendant.
No matter where life took her, though, Marshall University always remained at the center of her world.
And one of the ways in which Call has remained a part of the conversation at the university is through her involvement in the Marshall Fountain Ceremony planning committee. Call, along with members of Student Government, university leaders, the Office of Alumni Relations, and many others help coordinate the ceremony each year to commemorate those lost in the plane crash.
In 2020, Call was honored by the committee as the keynote speaker for the 50th anniversary of the crash.
"I am so thankful to be able to work on this project each year. The Student Government, along with Matt James and his staff, coordinate this event every year. There are so many people responsible for this heartwarming ceremony through the years that have become close friends. We come together each year to listen to the keynote speakers' words of how the plane crash had an enormous effect on their lives. I will always cherish these wonderful times.
"I am just so proud of the 1970 team and all of the players that have chosen Marshall through the years. All of the blood, sweat and tears that goes into this event are truly a labor of love. My speech for the 50th anniversary reflected the timespan of all the coaches, players and staff who had the courage to persevere each football season.
"No matter who the speaker is, the same theme always prevails. We came from ashes to glory, and we honor their legacy in our hearts forever."
In addition to helping with the Fountain Ceremony each year, Call has also had an opportunity to return to campus for special events such as the premier of the Warner Brothers film, We Are Marshall in 2006.
"I worked on the committee to help bring the families together to view the production," Call said. "Michele Prestera Craig, Kim Proctor Crabtree, Parker and Amy Ward, and Steve Chapman all helped coordinate this project. We had not seen some of these families in over 30 years. It was an amazing experience."
Of course, with a film dedicated to the tragedy and subsequent perseverance and triumph of the football program and university as a whole, Call recalls fondly many of the scenes in the film that she personally lived through as a student and as a daughter of someone lost in the crash.
"My favorite scene in the movie is where my dad and six of the football players were laid to rest," Call said. "You can see the university from the site. Our youngest son, Jarrod, was one of the football players in that scene. That is the motivational speech that helped start the Young Thundering Herd on its path in making Marshall become the winningest Division I college football team in the 1990s."
Call was again honored earlier this fall as she served alongside members of the Young Thundering Herd as Grand Marshals for Marshall's annual Homecoming parade. She shared the role alongside Allen Meadows, a team captain of the Young Thundering Herd and a four-year letterman of the program, and other members of the team.
"I was honored to share the role of Grand Marshal with Allen and other members of the team," Call said. "Allen was the very first freshman football player recruited to play at Marshall following the crash. He, along with his 1971 teammates, were honored during the festivities and I got to hear so many great stories about their time on campus."
Today, Call is still humbled by her role in helping bridge the gap between the tragic accident and rebirth of the program in the 1970s and the current generation of students at Marshall. And she still relishes every opportunity to tell that story and help spread the word about just what Marshall University means to her.
"I am sometimes asked, 'How do you want to be remembered?' Reflecting over the years of my memories on Marshall's campus, my hope is for all students, faculty, administration and alumni to give back in some way," Call said. "I want to see folks give their time, energy, money, and passion to instill in their hearts the real meaning of we are Marshall."