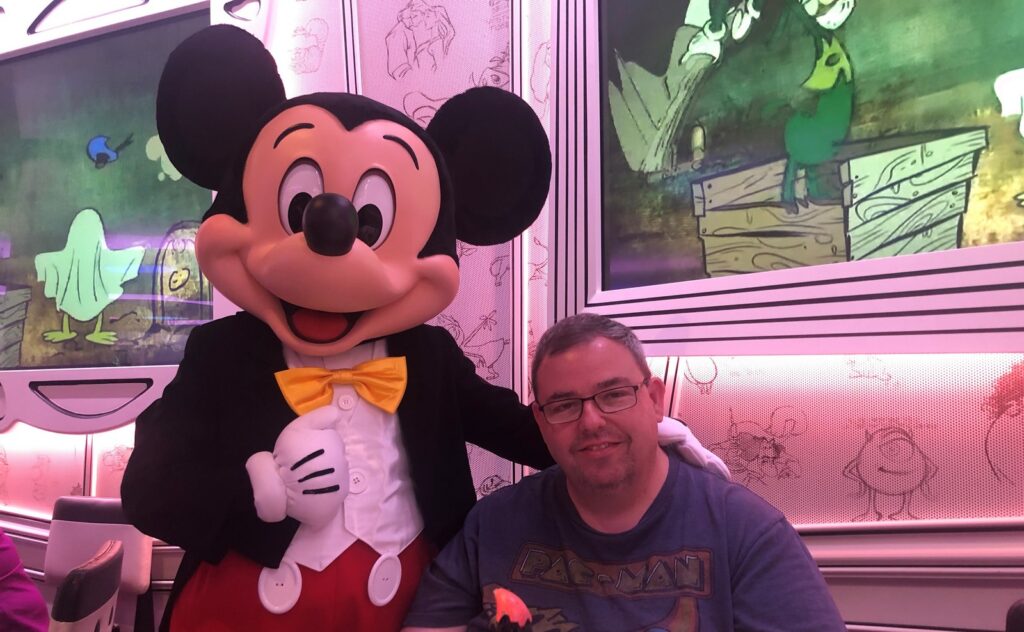 Each year, millions of people visit Walt Disney World. Wide-eyed children and their families move through its parks; their hearts filled with wonder and excitement. Smiles stretch ear-to-ear as their beloved Disney characters are magically transformed from reel life to real life, and each attraction immerses them into their favorite adventures.
But the magic of Disney World is not magic alone. It is the work of Marshall University graduate Jerry Frame, and hundreds of others, who bring to life these enchanting experiences for Disney World's visitors.
Frame is the principal systems engineer at Walt Disney Imagineering. He oversees the design and architecture for new attractions at Disney World, as well as maintain current attractions.
"It's my job to work with all the different groups at WDI – such as mechanical and electrical – and pull together an architecture and design from an engineering standpoint for an attraction so we can build it and give the creative group what they're looking for," Frame said.
Frame, who is originally from Red House, West Virginia, graduated from Marshall in 1997 with a Bachelor of Science degree in computer science. Frame said he decided to go to Marshall because of its reputable computer science program, and because it was close to home.
"At the time, I had been interested in computers since fifth grade, and I was looking for a computer science program," Frame said. "I looked around at the local schools, and Marshall had one of the better programs."
After graduating, Frame worked at various organizations in West Virginia as a software developer before moving to Tennessee. However, when an opportunity to work for Disney became available nearly 15 years ago, Frame and his wife, Jacquelyn, moved to the Sunshine State so their daughter, Alexandra, could grow up experiencing the magic of Disney World.
"The main reason I took the job at Disney was because she was about a year and a half old at the time, and I had the ability to let her grow up around Disney," Frame said. "I tend to see everything at Disney through her eyes."
When Frame began his career at Disney World, he was a senior software engineer. One of his first projects was Radiator Springs Racers, a Cars-themed attraction at Disney California Adventure Park, which meant a summer working in California at Disneyland. This later earned him his first Themed Entertainment Association Award for Outstanding Achievement.
Other projects Frame worked on early in his Disney career include updating Great Moments with Mr. Lincoln with the first all-electric expressive head for the Disneyland attraction's reopening in 2009, as well as assisting Seven Dwarfs Mine Train, a steel roller coaster in Magic Kingdom at Disney World and Shanghai Disneyland Park in China. Frame also supports and upgrades various attractions throughout not just Disney World, but any of Disney Parks' resorts.
"Basically, any of the attractions worldwide throughout Disney's resorts that have been built or upgraded in the last 10 years is running software that I've developed," Frame said.
In 2015, Frame was promoted to team lead and as such was responsible for show control systems and engineering. It was around this time Frame began work on Frozen Ever After, a new Audio-Animatronic attraction at EPCOT. The same animation system used in Frozen Ever After would later be implemented on several other Disney Parks' attractions, including Star Wars character BB-8, which became the first Audio-Animatronic figure that can be touched by visitors.
"I helped drive the direction of all the new, modern animatronics systems," Frame said. "I have been heavily involved in all the development."
Frame said Marshall's computer science program prepared him for his career at Disney World because the curriculum included both hardware and software components.
"One thing I liked about Marshall's computer science program is it taught a mix of hardware and software," Frame said. "They had us take classes like motherboard design and digital circuits. That really prepared me for later in life because the first job I got was a software job writing hardware components. That pretty much led me to where I am now."
In 2018, Frame's role at Disney World shifted and he began working for Walt Disney Imagineering. This allowed him to take his work with Frozen Ever After and apply it to Lightning McQueen's Racing Academy and Mickey & Minnie's Runaway Railway, both located within Disney's Hollywood Studios at Disney World. Frozen Ever After later earned a 2018 Themed Entertainment Association Award for Attraction Reimagining, which earned Frame his second Thea Award in five years.
Though, Frame's proudest achievement is the joy his work brings to the children and families who visit Disney World each day.
"I like Lightning McQueen's Racing Academy because it builds up, and the show is full of kids, and every time Lightning McQueen comes out all the kids clap and cheer," Frame said. "It's always fun when the kids get to see one of their heroes come to life."
Out of each smile Frame brings to Disney World's young visitors, his daughter's means the most. Alexandra, who is now a teenager, will soon take a new ride – college. Though, where she will attend is yet to be determined.
"It's funny," Frame said with a laugh. "My wife went to West Virginia University, so there's a bit of an in-house rivalry."
After nearly 25 years post-graduation, Frame reflects on his own time in college and the community built within Marshall's computer science program. He also speaks highly of his former professor, Dr. Herbert Tesser.
"He was a mentor," Frame said. "We spoke a few times after I graduated, and I even spoke to him once after I got the Disney job. He was a big influence on me."
Frame also has fond memories of his time at Marshall outside of the classroom. He made several friends on campus, and still cheers for the Herd in football.
"I met lots of friends there," Frame said. "I went to Marshall at a time when we were big in football during the Randy Moss and Chad Pennington era. So that was always fun, getting together and watching games."
What began as a storybook childhood for Alexandra has become a successful career for Frame. Though she may soon go off to college, Frame will continue to do what he does best – bring the magic of Disney World to life.
"I started the journey for her, and it has been a fun journey," Frame said.