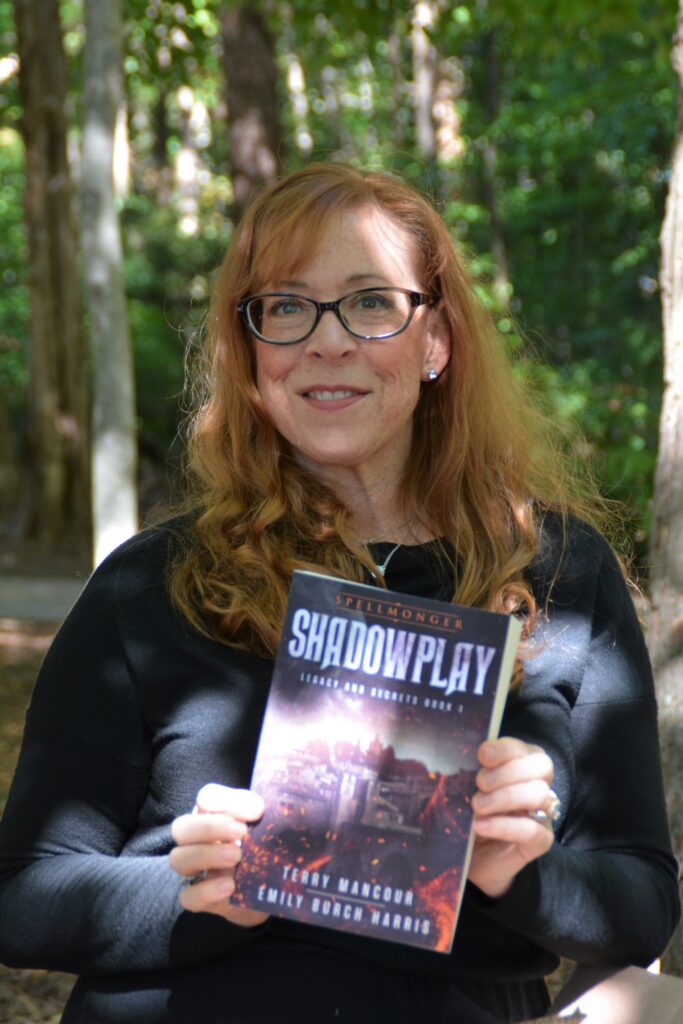 Breaking news. Epic fantasy. While these genres seemingly have nothing in common, for Marshall University graduate Emily (Burch ) Harris, they are two published volumes in her professional bibliography.
Harris has worked in journalism for more than 25 years and is currently a lecturer and the program adviser for North Carolina Agricultural and Technical State University's student newspaper, The A&T Register. In addition, Harris recently co-authored a book, "Shadowplay," alongside New York Times best-selling author and friend, Terry Mancour.
"It was really rewarding, amazing and surprisingly painless," Harris said of her venture with Mancour, who is the author of the "Spellmonger" book series. "Shadowplay," which was published in October 2021, is the first book in a trilogy based on Gatina, a popular "Spellmonger" character. " Shadowplay" is available on Kindle and Audible and was produced by Podium Audio.
Harris, who has edited the "Spellmonger" series since 2010, said she approached Mancour with the idea of collaborating on a book early in the pandemic. They spent weeks brainstorming and outlining, often speaking over the phone or video chat before being able to meet in person on a joint family beach trip in August 2020.
"I liken it to playing in someone else's sandbox with someone else's toys," Harris said. "It's his world, he built it, but I got to add my spin to it."
Writing an epic fantasy novel is very different from the journalistic training Harris received as a student in the W. Page Pitt School of Journalism and Mass Communications. Harris, a two-time Marshall graduate, earned her bachelor's degree in magazine journalism in 1994, and earned her master's degree in journalism in 1996.
Harris said she always knew she wanted to be a writer, but it took time to find the courage to give voice to the type of writing she wanted to do. However, a breaking news story in the spring of 1993 regarding a student government election showed her journalism is where she was supposed to be.
"As a student journalist, it was the adrenaline rush," Harris said. "That story, among a few others, led me to believe that's where I needed to be. News is what I needed to be doing."
Harris, a graduate of Winfield High School, had opportunities to attend college out of state, but her second campus tour of Marshall changed her mind.
"It was the squirrels," she laughed, as she described Marshall's welcoming, fur-covered friends and the picturesque scenery of the trees draped over the brick walkway between Smith Hall and Old Main. "I just felt like I was somewhere else. It felt like I had come home. Something in there connected with my soul."
During her time as a student, Harris was on the editorial staff of The Parthenon, news director for WMUL-FM and editor of The Chief Justice, Marshall's former yearbook.
While completing her master's, Harris worked as a graduate assistant for the Marshall Artists Series where she got to meet legendary musicians Art Garfunkel and Stewart Copeland.
"I don't think I would have had those experiences had I gone to Syracuse or Carolina," Harris said.
Harris had one goal after graduating from Marshall – to work at a Pulitzer Prize-winning newspaper. Harris achieved this goal, later working at the Winston-Salem Journal. She has also worked for The Morning News, in Florence, South Carolina, as well as the High Point Enterprise and the Greensboro News and Record, both in North Carolina.
Harris, recounting her first off-campus apartment with its green shag carpet and olive green stove, highlights the impact her time in the journalism program and her professors, such as Dr. George Arnold, Dr. Charles G. Bailey, Dr. Janet Dooley, Prof. Dwight Jensen and Dr. Ralph Turner, had on her during her time at Marshall.
"Everything I did, everything I learned and all the experiences I had helped build me into the person I had become and am becoming," Harris said. "That all ties back to the journalism program, as well as the patience, sense of humor and graciousness of the professors."
In 2004, Harris began working in student media before taking on a full-time position in 2007. Regarding her teaching tactics, Harris pulls from her experience as a student in Marshall's journalism program.
"I try to model the behavior that our advisers and professors presented us with when we were students," Harris said.
In an age where journalists and the media are under regular scrutiny, Harris works with her students to dispel the myths surrounding the profession, as well as bolster the importance of media literacy, law and ethics.
"If it's your passion, it's worth pursuing," Harris said. "If you know journalism is what you want to do and you want to be a recorder of history, then start with the history of the major."
In 2021, Harris was given the Honor Roll Adviser Award for a four-year newspaper from the College Media Association. While honored by the accolade, Harris said the award felt much bigger than just herself.
"It's not about me, it's about the students," Harris said. "Everything I learned about student media ties back to The Parthenon and WMUL. Being named adviser of the year felt amazing, but it wasn't just about me, it was about Arnold, and Turner, and Dooley and Bailey, and everyone else who came before me."
By day, Harris may mold the minds of young journalists, but in her off hours she continues her passion for fiction. In 2016, she published her first novel "Avalon's Choice: A Rebekah Keith Chronicle," which is available on Kindle, and subsequent books are in the works. She also has other ideas for future books, including one set in West Virginia.
Harris, who resides in Greensboro, North Carolina, with her husband, Doug, and their 11-year-old son Connor, have visited the Mountain State and recalls the memory of a visit to Huntington in 2010, complete with a stop at a Jewel City favorite, Chili Willis.
"I wanted to stop by Stationer's" Harris said. "When we got there, it was closed, and the keys were on the ground. We took them to MUPD, and the next day the owners called to thank us and gave us a $50 gift card."
From the classrooms of Smith Hall to the realm of Callidore in the "Spellmonger" universe, Harris' love for the written word can be found in each sentence of her stories, and it's a love she hopes to inspire others.
"I would encourage people who have a story they want to tell to just start writing," Harris said. "Nobody can tell your story but you."