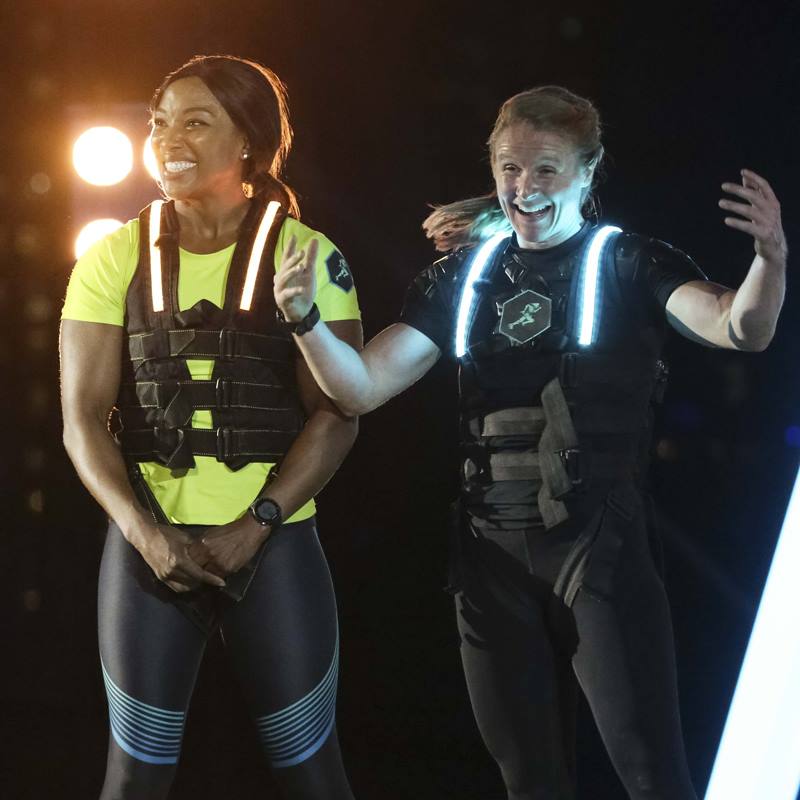 Imagine, if you will, a race.
On one end of this race stands an ordinary, everyday man or woman trying to complete a 1-mile obstacle course through downtown Los Angeles in front of a national television audience. At the other end of this race, is $1 million.
Of course, like any made-for-television game show, this competition comes with a catch. After a brief head start, these average Americans are then chased down by a series of elite athletes whose entire mission is to stop them from reaching the finish and winning the grand prize.
Sound intense? It is.
Developed by NBA superstar LeBron James and hosted by former NFL quarterback Tim Tebow, Million Dollar Mile debuted on CBS with nine episodes during the summer of 2019. With colorful personalities, extraordinary athleticism and gifted physiques, the stars of the show were the defenders who took turns each week hunting down and eliminating contestants.
While all the defenders had their time in the spotlight, one who made a significant splash during the five-month run of the show was Emma Chapman, a two-time Marshall University graduate and former Thundering Herd athlete, affectionately known as "The Mighty Kiwi." Chapman is one of the most decorated obstacle course racing athletes in the world and has made a name for herself on the competitive circuit of CrossFit competitions and Tough Mudder X races.
Recognized nationally for her skill in these arenas, Chapman was an easy selection to star on the show and was one of the first athletes featured in the debut episode. Of course, starring on the show also meant she had to try on a different persona as a villain on national television.
"As a defender, we were basically seen as the bad guys. As competitive as I am, I wouldn't say I am a mean person, so it was really hard for me to get into character. Still, the overall experience was truly amazing and one that I am extremely grateful for," Chapman said.
Chapman was one of 10 defenders, a group made up of six men and four women. Their job was to chase down the contestants attempting to win the $1 million as they navigated five separate obstacles, each earning them more money. The contestants were given a two-minute head start before the defenders began their pursuit.
With so many gifted athletes in one space, Chapman admitted the competition quickly shifted from the contestants to the defenders themselves.
"Filming the show in L.A. was an amazing experience. Being behind the scenes of a television show was really unique. And, of course, when you put several competitive athletes together in one place, crazy things happen," Chapman said. "One evening, the other female defenders and I were discussing how we could beat any of the male defenders through the obstacle course. This conversation was overhead by one of the producers who then decided it would be a good idea for some of us females to race against the male contestants on the show.
"I believe it was the next night where they read aloud who we would be racing against when they said that I would be racing against a male contestant. I was shocked and extremely nervous at the same time. I did not want to be the defender who gave away the $1 million prize, so I knew I had to step up to the plate. The contestant ended up getting to the fifth obstacle where I overtook him on a rock-climbing wall that was located at the end of a swimming pool. I would like to know what my heart rate was during the race because I believe it was the most nervous I have been in my entire life."
That moment was a microcosm of her time on this earth thus far. Simply put, Chapman was born for the big stage.
Born in England before moving to New Zealand at the age of 10, Chapman grew up in a family of athletes. And it wasn't long before competition became a way of life. She began playing soccer at a young age before joining local clubs and working her way up to playing for New Zealand's U20 national team.
"My dad, both brothers and I grew up playing soccer – or football as we call it. I was always active and enjoyed playing a number of different sports. Playing soccer gave me so many amazing opportunities, including traveling the world representing New Zealand at the U20 Women's World Cup, and ultimately leading to Marshall University," Chapman said.
During her time playing for the national team, one of her coaches connected her with former Marshall University women's soccer coach Chris Kane. A few months later, Chapman was on a plane and on her way to Huntington to play for The Herd.
"I am forever grateful for the opportunity to attend university where I pursued my degree in education and represented the university in soccer," Chapman said. "The opportunity to attend university and play a sport is unique to America and not really an option in New Zealand. When I arrived at Marshall, I almost instantly felt at home amongst my teammates and Huntington."
While she was quick to make friends, life in West Virginia took some getting used to. But it wasn't long before her newfound friends and teammates helped set her on the right track.
"When I arrived in Huntington and was picked up by Chris, I remember vividly coach taking a right turn on red and I was instantly in shock," Chapman said with a laugh. "Obviously driving on the opposite side of the road took me a while to get used to. Still to this day I go to get into my vehicle to drive, only to realize I have opened the passenger side door. There were several examples of things like that from the dairy products – the cheese is very yellow here – to the portion sizes. One piece of advice I got from family and friends before coming to the USA was to eat half of what they serve in restaurants, and they were not kidding.
"In terms of culture shock, overall it was not as bad as I thought it was going to be. West Virginia shares a lot of similarities with New Zealand, in particular the south island where I lived. The people are friendly and there are lots of mountains and the weather is seasonal. I really did feel at home when I arrived here."
During her time in Huntington, Chapman earned two degrees, including her master's degree in education in 2013. She also met her future husband, Corey Chapman, and helped guide the Thundering Herd women's soccer team to Conference USA success during her senior year.
"I spent eight years in Huntington and I always tell people that if I could go back in time, I would do it all over again," Chapman said. "Playing soccer for the Thundering Herd was such an amazing experience and I take great pride in it. I also really enjoyed my time during my studies in the education department where I met some lifelong friends, and my husband. Coming to Marshall literally changed the course of my life.
"I initially had plans to move back home after graduating, but here I am, 14 years later, still living in America. I am forever grateful for the opportunity to come over here and represent the university."
Today, Chapman resides in Berea, Kentucky, with her husband and two dogs. Chapman teaches health education to middle school and high school students in Berea and her husband, Corey, is the strength and conditioning coach at Madison Central High School, where he also coaches football. As a teacher, Chapman feels right at home doing something she has always dreamt of since she was very young, and it is all thanks to her education at Marshall.
"I have been active my entire life. I pretty much played every sport growing up. My parents were also huge advocates for health and wellness and are both are very active themselves. In fact, my dad still plays soccer and will be turning 60 soon," Chapman said. "Some of my role models growing up were the teachers I had, in particular, the physical education teachers. I knew at an early age that I wanted to pursue teaching as a career, specifically being a health and physical education teacher. It allows me to make a positive impact in the lives of my students each day and promote a healthy lifestyle. There are so many additional benefits such as teaching my students what it means to work as a team, strengthening their social skills and improving their focus and abilities in the classroom."
But that is far from the end of this story.
Over the past four years, Chapman has competed professionally in CrossFit challenges, along with other competitive arenas including obstacle course racing and, more recently, triathlons. In fact, it was during her time in Huntington that Chapman fell in love with CrossFit as it provided that competitive itch that was missing when her soccer career was over.
"I started CrossFit back in 2014 as it filled the void of training that was missing. It sounds funny to say out loud, but I really missed being told what to do, how to do it, when to do it when it comes to working out. My time playing soccer at Marshall was just that," Chapman said. "I am a pretty routine-oriented person and joining a CrossFit gym allowed me to add working out back to my routine on a more consistent basis."
After two years of training, Chapman qualified for her first regional event in 2016 before making it all the way to the team competition at the CrossFit Games in 2019 where her team placed fifth in the world. She then qualified for the CrossFit games as an individual in 2020, only to have that opportunity taken away due to the pandemic. "I was absolutely devastated, but it motivated me more and I then went on to qualify for the semifinals in 2021," Chapman added.
In addition to her time in CrossFit, Chapman also ventured into the world of obstacle course racing and competed in her first Tough Mudder X competition in Richmond, Virginia, in 2018. At the event, 50 male and 50 female competitors battled the course over three races to decide a champion. Setting a personal goal to place in the top 10, Chapman went on to win the competition, opening many doors in the years ahead.
"After winning the Tough Mudder X competition and being crowned world championship, that led to a host of amazing experiences including the Spartan Games in 2019, Spartan World Championship races in 2019 and 2021, and my involvement in the Million Dollar Mile show," Chapman said.
After years of success on the soccer pitch, in gyms, on muddy fields across the nation and on national television, what drives Chapman to be successful?
"I am a very competitive person by nature, and I believe that stems from growing up with a twin sister and two older brothers," Chapman said. "I really like the opportunity to challenge myself more than anything. For me, competing against other people isn't what drives me. What drives me is seeing my own performance improve from all the work that I put into training. That feeling of getting better is almost addicting. It's definitely what keeps me motivated."
Another thing that keeps her motivated are the kids she guides each week. And when they found out that their teacher was going to be on television, it didn't take long for them to chime in how they felt.
"My students still talk about the show to this day," Chapman said. "I was not allowed to say I would be on the show until they publicly announced who the defenders were. There were several commercials that aired prior to the show, including a Super Bowl commercial, and it was there that some people spotted me. I appeared in the first episode, and we ended up having a watch party at the school.
"Being the villain was a shock to some of my students. I had several tell me that they didn't think I could be mean. I just hope that my time on the show helped to inspire my students to believe that through hard work, anything is possible."
While she has already lived a life that has taken her around the world and thrust her onto the national stage in many arenas, Chapman remains humble and always points to Marshall as a guide on this amazing journey.
"Marshall University really did change the course of my life," Chapman said. "Marshall helped give me my career and it was there that I was introduced to CrossFit. I attended my first class after graduation at CrossFit Thunder and I was instantly hooked. That filled the void that playing soccer left and ultimately led to all the opportunities I have experienced to date.
"I truly believe I would not have had as much success and experienced the amazing opportunities that I have if it had not been for attending Marshall."