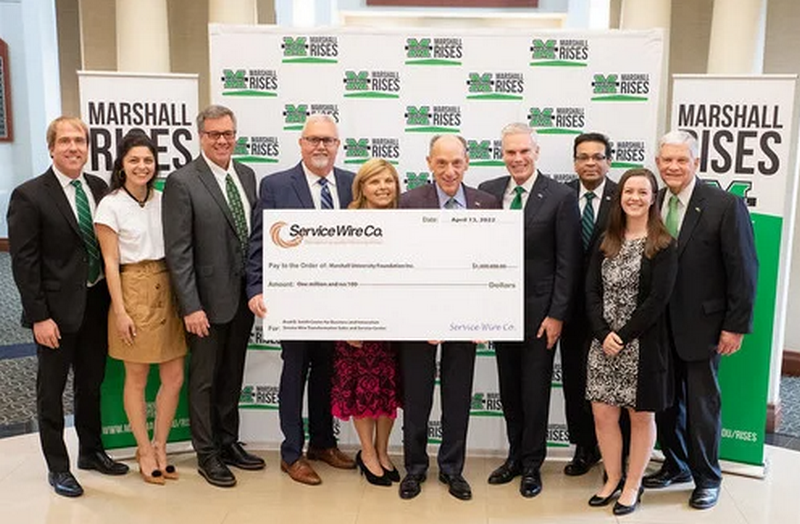 The Marshall University Foundation has announced that Service Wire Company has committed $1 million in support of the Brad D. Smith Center for Business and Innovation at Marshall University.
Service Wire Company will provide both financial resources as well as wire and cable products for the new state-of-the-art facility for the Lewis College of Business and Brad D. Smith Schools of Business. Additionally, the Transformative Sales and Service Excellence Center within the college will be renamed the Service Wire Company Transformative Sales and Service Excellence Center.
Louis Weisberg, president and chief executive officer of Service Wire Company, said he is excited to expand upon an existing relationship with the university and the city of Huntington.
"Service Wire has a long-standing history partnering with Marshall University, and we are pleased to continue this legacy," said Weisberg. "We are proud to have Marshall University graduates in all departments across multiple locations – from accounting, sales and marketing, to engineering, operations and executive management.
"Service Wire has always been committed to serving the communities in which our employees live and work and that dedication extends to educational institutions. By providing an outlet for our employees and their families to further their education and recruit new talent, we can better equip our growing workforce."
Dr. Ron Area, chief executive officer of the Marshall University Foundation, echoed the importance of the relationship between regional businesses and Marshall.
"There is a great deal of excitement right now surrounding the new school of business and its impact on Marshall University and the surrounding area," Area said. "And that dream can only be fulfilled through relationships and great partners like Service Wire Company. Louis Weisberg, Chuck Oldaker and their team have been a partner of the university for a long time, and we look forward continuing that relationship in the future. This gift will help Marshall achieve its goals in transforming Huntington into a central hub for business innovation."
Service Wire Company is a multi-generation, family-owned wire and cable manufacturer in existence since 1968. With locations across the nation, including West Virginia, Texas and Arizona, the company is committed to providing quality American products and industry-leading service. Through a nationwide network of distributors and advanced distribution capabilities, Service Wire Company is able to meet the needs of industrial, commercial, utility, pump, irrigation and transit customers throughout North America and the world.
With numerous employees and team members touting a degree from Marshall, Chuck Oldaker, executive vice president and chief financial officer at Service Wire Company, sees this as a unique partnership to further enhance the students and future workforce of West Virginia.
"The College of Business' cutting-edge curriculum will help attract new talent," Oldaker said. "We can continue to support these individuals post-graduation by offering gainful employment opportunities in one of our nationwide locations or through our vast sales agent network."
The new state-of-the-art facility is slated to be built in the 1400 block of 4th Avenue on a plot of land that formerly housed The Flats on 4th apartment complex. The building is scheduled to open in January of 2024.
The building, which will also serve as a center for the economic development of the region, will provide for conference facilities capable of hosting both small and large business gatherings. Additionally, the building will serve as the hub for student centric activities, providing students not only with instructional facilities but also facilities encouraging interaction and collaboration.
The gift will also advance the Service Wire Company Transformative Sales and Service Excellence Center within the college. The Center aims to prepare the next generation of sales and service leaders through relevant curriculum, role-play exercises, real-world challenges, training and certification programs and networking with corporate partners. This funnel helps provide best-in-class employees for local businesses to grow and meet ever-changing needs in a post-pandemic economy.
"Service Wire is proud to be a staple in the community. We have a long history of supporting West Virginia and the Tri-State region and are pleased to be able to continue this spirit of giving," Weisberg said.