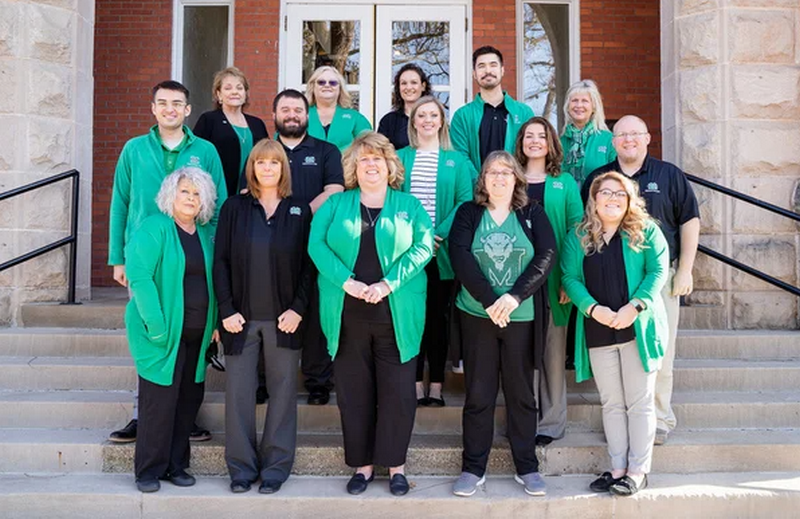 During his tenure as president of Marshall University, Dr. Jerome A. Gilbert made it a priority to increase scholarship aid for the student body in the face of rising education costs, and thanks to the Marshall Rises campaign, scholarship aid has increased 44 percent over the last five years with 500 more students receiving aid annually.
Part of the increase has been thanks to the hard work by the university's Office of Student Financial Assistance, which launched a brand-new way for students to apply for private scholarships through an online portal. Launched in January of 2020, the portal reduces the amount of time it takes both students and staff to find and apply for applicable scholarships.
"We were trying to find scholarships for students by looking at each individual guidelines for each scholarship," said Tara Hensley, senior financial aid counselor. "And then we didn't really have something set up to where we could view a GPA or ACT score or the major they're in or anything like that. We just had to search. It was countless hours."
Financial aid staff said before the portal, there were upwards of 400 private scholarships that each required an application. Students could search most of the scholarships online at the financial aid site and college and department staff would work to pair students with appropriate scholarships, but awarding all available funding was still too big a task for the financial aid office.
"There were hundreds of applicants and applications that would come through," said Cody Call, associate director of operations. "The paper was so much. We would open them all and there were some that were 20 per student. That would all get scanned in and filed away. It was a big pain. Then you'd have to review those, try to match up the scholarship and look at all the information manually. Now, the portal does all of that automatically for us. One word to describe the portal was just efficiency for our office."
Students now fill out one application and are automatically matched with the scholarships out of 1,000-plus they qualify for.
"There are about 20 different departments, colleges and financial aid that utilize the scholarship portal now," said Nathan Miller, applications programmer in enrollment services and builder of the portal.
The portal is a great resource for incoming students, who can see all the potential funding they can receive, and it's great for retaining students by potentially providing them with funding all four years. It also helps the university catch students who may have fallen through the cracks before, like first generation students.
"Students and families need to know their financial outlook and the uncertainty of their futures has a negative impact on enrollment," said Dr. Beverly Boggs, director of Financial Aid and Assistant Vice President of Enrollment. "I don't know anyone who would be willing to make a large financial commitment without knowing if they can meet it. Having a balance due weighs heavily on the minds of our students; so much so that focusing on learning is secondary. Grades suffer, motivation suffers, and self-esteem suffers."
Boggs said she has worked at several institutions that don't have the donor support Marshall has, nor do they have portals as robust as Marshall's.
"It makes a huge difference when trying to help students reach their educational goals," she said. "It is so disheartening when a talented and promising student gives up on their education because there are no resources available to help them and financially they just can't make ends meet. Sometimes it can be just a small amount of money that keeps them enrolled and engaged. Marshall is extremely fortunate to have loyal donors who know this."
The portal ensures that robust support reaches the hands of the many deserving students.
"It's an efficient way to spend the donors' money," said Jean Ann Bevans, associate director of customer service.
The portal has led to an increase in the number of students applying for scholarships, with over 1,100 students applying last year.
"That's not even the supplemental applications, which was also a big increase from previous years where we may have been hurting to find students to award these things to," Miller said. "Now we're having to be more selective of who we award to because of the criteria, which is great. We're using the donors' money as they intended it to be used."
Miller said the portal is helping colleges utilize their scholarship funding to the best of their ability.
"The portal has created ease of access for our future and current business students to apply for scholarships," said Jeffrey Archambault, interim dean of the Lewis College of Business. "Keeping students the focus of all that we do is our first priority. We cannot reach the ambitious goals we have set as the Lewis College of Business, and our students from the Brad D. Smith Schools of Business cannot achieve the ambitious goals they set, without a robust and competitive scholarship portfolio. Scholarships are a great equalizer—they help business students realize their potential and help Marshall recruit and retain them."
The Office of Financial Aid takes every opportunity to teach students about the portal, as does the Marshall University Foundation. From incoming student tours to orientation and beyond, financial aid counselors love to connect students with funding.
"That's why I'm so passionate," Miller said. "I did not have any idea until my last semester of college that I could come to the financial aid office and ask for a scholarship. I went through school with student loans. So, we have fixed that for other students so that they know that they can get scholarship money. They may not be awarded it, but they're going to know about it. They're going to know there are opportunities out there."