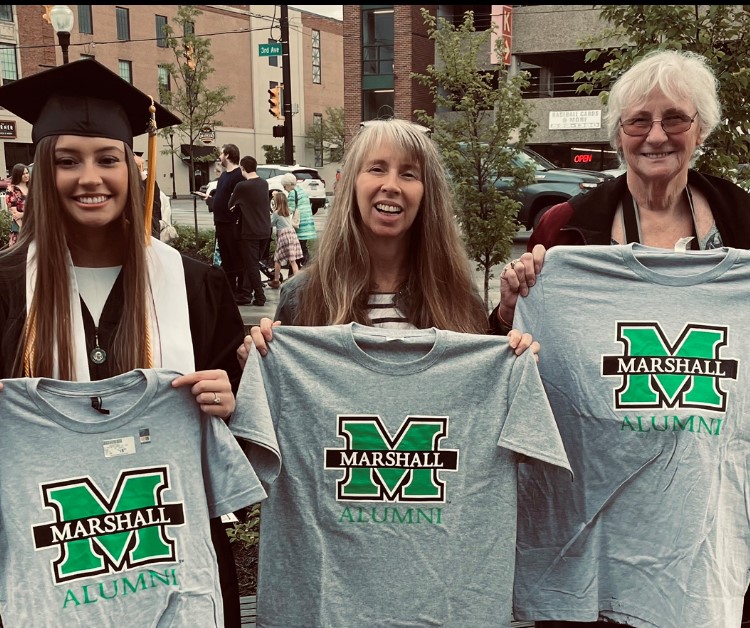 College is a momentous occasion for every student. It is often the beginning of the rest of their lives. What unfolds between the stately buildings, late night study sessions, and lifelong friendships that shape their futures, can many times spur inspiration for the generations that follow.
Three Marshall University graduates have such a story. Susan Popp, Kim Wellman and Sydney Wellman all received their degrees from Marshall. They are also grandmother, mother and daughter.
"Three generations is kind of a long time, so we all experienced something different," Sydney said. "We definitely bond over that. And it's also a matter of respect in a way, we all recognize that we've put in the work to receive our degrees from the same college and we have this level of respect for each other."
Sydney is the most recent Marshall graduate in their family, earning her bachelor's degree in biomechanics in May 2022. She is now a graduate student in Marshall's School of Physical Therapy.
Their legacy is made possible thanks to Marshall's Alumni Legacy Scholarship. The Alumni Legacy Scholarship is awarded to non-resident, first-time freshmen whose parent or grandparent graduated from Marshall. The student's parent or grandparent must also be donors of the university.
Susan has donated to Marshall consistently for more than 30 years, and it is because of Susan's generous contributions to the university that Sydney, who lives across the river in Chesapeake, Ohio, was able to attend Marshall at an affordable rate. However, none were aware of the scholarship beforehand.
"I was completely surprised by the scholarship opportunity," Kim said. "That was a real blessing. It has made me realize how important donations are to the university. That's something I'm going to start doing is donating to the Marshall Foundation for that reason. It was so helpful for Sydney to get her bachelor's degree. I'm grateful my mom donated, and that she could have that opportunity."
But for Susan, college was not a part of her original plan.
"My future husband was already at Marshall," she explained. "My father asked me if I wanted to go, and he gave me some money. He wanted me to go to school."
Susan married her late husband, Larry, who graduated from Marshall in 1966 with a bachelor's degree in music education. The two then moved to Virginia, thus putting Susan's college career on hold.
"We moved to a southern part of Virginia and there were no colleges there, so there was no opportunity to go back," she said.
Nearly a decade later, the family moved to Blacksburg, Virginia, as Larry graduated with his master's degree from Radford University. This allowed Susan to return to the classroom before the family moved back to Huntington a year later.
With another move across state lines, Susan knew she would have to wait a year before she could enroll again to pay the in-state tuition rates. Or so she thought.
"My mother saw an article in the newspaper that they had a program for women returning to college," Susan said. "So, she dragged me to Marshall and before I left there that night, I was enrolled again."
Susan's educational journey crafted some of Kim's earliest memories and began her love for their shared alma mater.
"I can remember going to Marshall with my mom when she was signing up for classes and standing there in those long lines with her while she was paying her tuition when I was a little girl," Kim said.
In 1983, Susan earned her bachelor's degree in library science and social studies. After graduation, Susan went into teaching, first as a long-term substitute teacher before taking a full-time position at St. Joseph Central Catholic High School in Huntington as the librarian. Susan worked there for 29 years and retired in 2018.
For Kim, she always knew she would attend Marshall. Both of her parents were Marshall graduates, and it was never a question as to where she would complete her degree. She also knew from a young age what her major would be.
Larry Popp passed away in January 1990 during Kim's freshman year. He battled with heart disease for many years, which included an open-heart surgery when Kim was around 9 years old. It was her father's health struggles that led Kim to become a nurse.
"I remember sitting in the lobby of the old St. Mary's Hospital for hours waiting for him to have heart surgery and I was just inspired by the nurses there," Kim said. "If I could have the opportunity to provide that care to someone else's family, I just wanted to be able to do that."
Kim earned an Associate of Applied Science degree in 1991 from Marshall. She then took all her prerequisite classes at Marshall before attending St. Mary's School of Nursing, which she graduated from in 1996. In 2005, she received her Bachelor of Science in nursing from Marshall.
Larry's passing had a profound impact on the entire family. With Kim just beginning her time at Marshall and Susan only mere months into her job at St. Joseph, Susan wanted to find a way to honor his memory.
"Every year after my husband died, I'd send a little money to the Foundation in his name," Susan said. "Marshall gave him the opportunity to have a career for 24 years in what he loved to do, which was teach music on a high school and middle school level."
"He was a wonderful man who loved Marshall," Kim echoed. "Sydney knows he's a powerful influence in my life, even still. I think that influence carries on to her and my other daughter, as well."
What began as a way to honor a beloved husband and father, became a significant source of financial reprieve for Sydney. As someone who grew up around the university and watching Marshall sports, Sydney was always interested in attending college close to home as part of the Herd.
"That's where my mom and nana went, and they always spoke so highly of it," Sydney said. "It also worked out that what I wanted to do was at Marshall, too."
Sydney began her Marshall journey as a nursing student, like her mother, but soon felt her academic career was leading her down a different path.
"I found the biomechanics program in the School of Kinesiology and started that my junior year," Sydney said.
Sydney said she has always loved studying math and the human body. Biomechanics, which is the study of human movement, encapsulated everything she was interested in. Her graduate program in physical therapy will help her reach her dream, which is to work as a pediatric neurology physical therapist.
"I want to work with kids and young adults who have gone through a traumatic brain injury or a spinal cord injury and work with them to rehab them to get better," Sydney said.
Three Marshall alumna. Three vastly different majors. Three stories, bound by a deep appreciation for the college they love.
On the day of Sydney's graduation, the three stood proudly outside of the Mountain Health Arena and commemorated the occasion with a photo as they each held a Marshall Alumni T-shirt that Susan had gifted Kim and Sydney.
"I hope to be able to pass my desire and my gratitude for Marshall to my future children," Sydney said. "And hopefully, there will be a fourth generation."