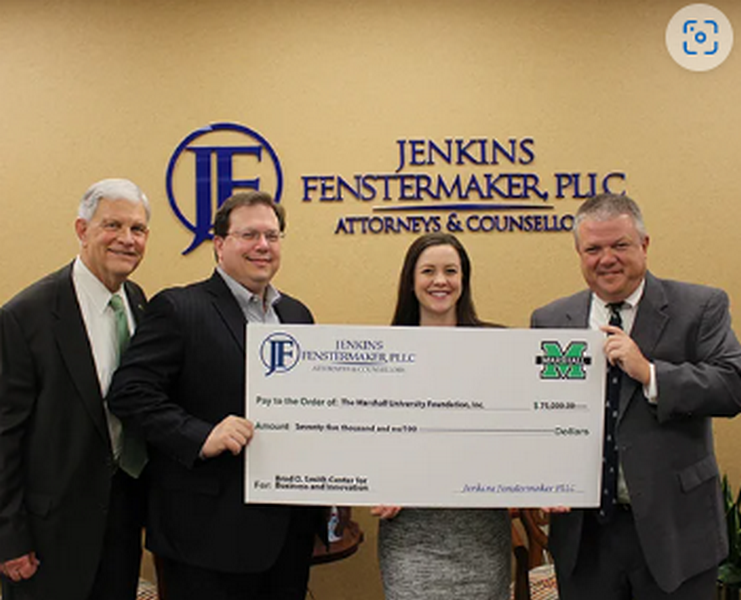 The Marshall University Foundation has announced that Jenkins Fenstermaker PLLC has pledged a gift of $75,000 in support of the new Brad D. Smith Center for Business and Innovation at Marshall University.
The facility, which is to be built in the 1400 block of Fourth Avenue and is scheduled to open in January of 2024, will serve as an economic hub in the region while bolstering business connections among area professionals. Marshall students will have access to a first-class education in a dynamic environment that will enhance and encourage various types of learning and collaboration.
"As part of this community for almost 100 years, we are proud to support the Marshall University Lewis College of Business, the premier training ground for future business leaders and innovators in our community and beyond," said Steven Wellman, managing member for Jenkins Fenstermaker. "Many of our attorneys and staff attended Marshall University, and we are excited to play a small part in the future growth and success of the Lewis College of Business. We believe that our partnership with Marshall University will benefit both institutions for many years to come."
The facility, expected to be 77,000 gross square feet, will house classroom space, a forum and auditorium, computer and science labs, office space, meeting rooms and study spaces for students.
The gift pledged by Jenkins Fenstermaker will support the Leadership Lounge in the new building. The Leadership Lounge is part of the Truist Center for Leadership. The Truist Center for Leadership empowers students through training, workshops and networking opportunities while also developing the next generation of leaders.
"As a business attorney that is passionate about economic development, I have always recognized the importance of Marshall University and its business school to our region," said Stephen Golder, member for Jenkins Fenstermaker. "The new facility for the Lewis College of Business will be a game-changer for our downtown and for Marshall University. Witnessing progress spearheaded by the Marshall team is exciting for our team to participate in."
Jenkins Fenstermaker, with offices in Huntington and Clarksburg, West Virginia, provides representation in West Virginia, Kentucky and Ohio. The firm celebrates its 100th anniversary in 2023. Clients can find experienced, accomplished attorneys dedicated to quality, detail-oriented representation in business and commercial law; wills, trusts and estates; litigation; and labor and employment law.