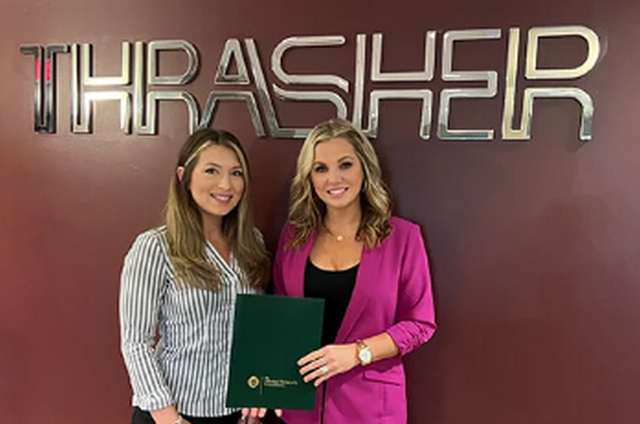 The Thrasher Group recently established the Thrasher Group Scholarship to support Marshall University students in the College of Engineering and Computer Sciences.
Recipients will be West Virginia residents who are in good academic standing with a 3.0 GPA or higher and have financial need, per the standards of the Office of Student Financial Assistance. The award is non-renewable with only one recipient a year.
"So many of our employees are West Virginia educated, and we are really proud of that. This is just another way for us to help feed that talent pipeline here at home," said Jenny Weaver, human resources director at the Thrasher Group.
Thrasher Group officials say they are proud of its collaborative efforts with Marshall. In 2019, the group established the Phillip G. Simmons Scholarship, which was generously funded by Simmons' friends and coworkers at the Thrasher Group. This scholarship benefits students from Braxton County High School in Braxton County, West Virginia, with preference to students who are incoming freshmen and studying in Marshall's College of Engineering and Computer Sciences.
"West Virginia is so special, and anyone who has ever spent time here understands what I mean by that," "said Woody Thrasher, president and founder of the Thrasher Group. "I don't just mean the natural beauty of our state, I mean the people. West Virginians are bright, they are innovative, and they are perseverant–some of the many reasons I feel so passionate about these scholarships with Marshall University,
The Marshall Foundation maximizes continuous financial support for Marshall University and its students by soliciting, receiving, investing and administering private gift support. The Marshall Foundation is committed to providing professional service to Marshall University, its students and donors.
The Thrasher Group is a full-service consulting firm that has served clients in West Virginia for nearly four decades. With offices in Bridgeport, Charleston, Beckley, Scott Depot, Martinsburg and beyond, Thrasher employs hundreds of professionals throughout West Virginia and the greater mid-Atlantic region. For more information, visit their website at https://www.thethrashergroup.com.
For information regarding the Thrasher Group Scholarship and the Phillip G. Simmons Scholarship, please contact Marshall University's Office of Student Financial Assistance at 304-696-3162.