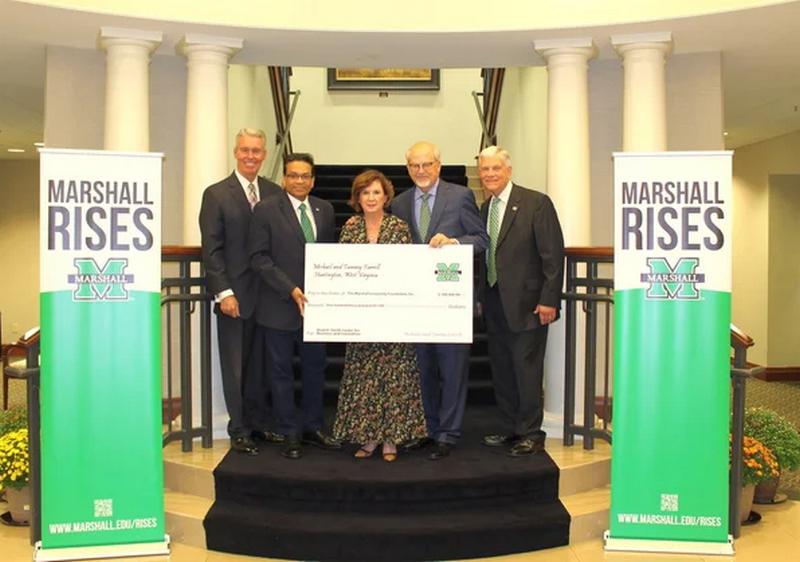 The Marshall University Foundation has announced that Michael J. Farrell and Tamela J. Farrell have pledged a gift of $100,000 in support of the new Brad D. Smith Center for Business and Innovation at Marshall University.
"We, as a couple, feel the need to invest in our community and we do it through many different avenues, but the university has always been the one that we felt most passionate about," Michael Farrell said.
The facility, which is to be built in the 1400 block of Fourth Avenue and scheduled to open in January of 2024, is expected to be 77,000 gross square feet, and will house classroom space, a forum and auditorium, computer and science labs, office space, meeting rooms and study spaces for students. It will be the center for economic development in the region, with the capability of hosting both small and large business gatherings.
Michael Farrell was interim president in 2005 following the departure of Dan Angel. He previously served on Marshall's Board of Governors and is also in the Lewis College of Business and Brad D. Smith Schools of Business Hall of Fame.
"When I was on the Board of Governors before I became president, we developed the master development for Fourth Avenue and this is the first step," Michael Farrell said. "Of course, President Smith's tremendous gift of $25 million has been the catalyst that's made all of this happen. This is, quite frankly, the dream that has come true and will set Marshall's business school and our campus apart its competitors."
Marshall students will have access to a first-class education in a dynamic environment that will enhance and encourage various types of learning and collaboration. The facility will serve as the hub for student centric activities, providing students not only with instructional resources but also facilitating the practice and expertise that will prepare them post-graduation.
"We are appreciative of the Farrells' generosity and their continued support for the university," said Ron Area, CEO of the Marshall Foundation. "It is with their contribution to the new business school that Marshall students will excel, and our footprint in the region will be larger than ever before."
The Farrells are attorneys and members of the Huntington-based law firm Farrell, White & Legg PLLC. The Farrells have a long-standing history of giving both professionally and personally to the university.
"Any of us who have the wherewithal need to be able to say thank you in a meaningful way whenever we have an opportunity," Michael Farrell said. "This is that opportunity for me and my wife."