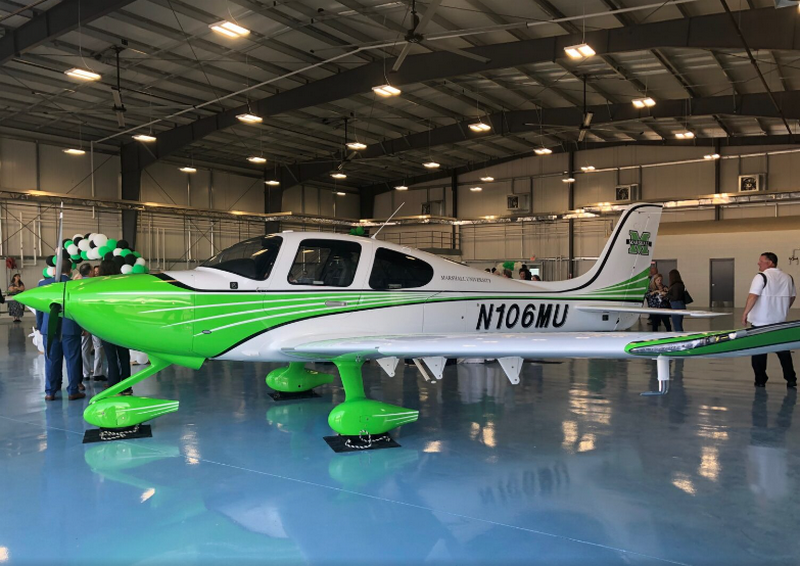 Growing up, they all looked to the sky. When others dreamt of careers on the ground, they dreamt of soaring with the birds.
Many didn't think they would do more than dream until they heard the announcement that changed their lives – Marshall University was opening a flight school.
"I was set to study biology," said Kristen Sayre, a member of the inaugural class of the Bill Noe Flight School and St. Albans native. "I planned to obtain my undergraduate degree out of state. Throughout my senior year of high school, my sights were set on leaving my home state because I did not yet see the opportunities it had for me."
Sayre isn't the only one who changed her plans.
Ben Epperly graduated from George Washington High School in Charleston in 2020 and didn't know what he was going to do. He knew he was interested in aviation, but it wasn't until Marshall opened the flight school that he could pursue the dream.
Josh Lucas grew up wanting to be a pilot and a police officer. With no path toward the former, he followed the path of law enforcement, serving Marshall's campus, the cities of Milton and Hurricane, and the Office of the West Virginia Attorney General. The support of his wife and family led him to pursue his other dream of flying.
"Flight instruction has been a dream of mine since I was little," Lucas said. "But I didn't want to leave West Virginia. I got married, I have my house and eventually I want to have a family here. It was a no brainer as soon as Marshall opened."
The Bill Noe Flight School welcomed its first class in the fall of 2021. Housed at West Virginia International Yeager Airport in Charleston, the four-year program leads to a series of Federal Aviation Administration certifications and prepares graduates to become commercial pilots of single and multi-engine aircraft. Lucas and Epperly are among the first students to receive their private pilot licenses.
Amelia Earheart said, "The lure of flying is the lure of beauty," and that is true for the students at the flight school.
"When you take off and go through the clouds and get above the cloud layer, the scene you see is breathtaking," Lucas said. "Down on the ground it can be raining, dark and gloomy, but in just a few minutes you pop above the clouds to the sky."
Scholarships have assisted in helping make these local students' dreams come true. Sayre, Lucas and Epperly are all recipients of the Lemotto Smith Trust Scholarship, a general scholarship created by the estate of Mr. Lemotto Smith, a Huntington business owner who died in 1987 at the age of 103.
"Scholarships have given me the promise that my family and I will be able to make my attendance in this program work despite the fact that aviation is financially demanding and our socioeconomic status traditionally does not support such a lifestyle," Sayre said.
Scholarships helped Lucas make the decision to leave his full-time job to go back to school.
"There are no words to describe what it means to me," he said. "Especially coming from a full-time job to a situation where I can't work full time, it makes it so much easier. Whether it's $50 or $1,000, it's one more piece of the puzzle that goes toward our education and making achieving our dreams possible. I'm not used to getting scholarships or having anyone give me anything. I can't say thank you enough. Without it, it makes it difficult."
The scholarships have also inspired the students to want to give back themselves.
"Since the beginning of my attendance, I have actively been working with Marshall to establish more scholarships and honors programs for the flight school so others have the opportunity to become professional pilots," Sayre said.
Sayre also wants to become a flight instructor.
"I wanted to be a teacher since a young age, so with that I can be a teacher for one of the most amazing things in the world," she said.
"I have not bought into the idea that what one does for work has to be a job," Sayre continued. "Being a pilot for most is not a job, it's a passion and you get to take part in things very few do. I love the idea of mobility and the freedom associated with it. I aim to inspire others to reach for the stars as well."
Lucas would also like to be a flight instructor and dreams of combining his passion for civil service with his passion for flight through something like medical flights.
With access to commercial flights, corporate and general aviation facilities, an Air National Guard base, the West Virginia State Division of Aviation, a port of international entry and the flight school, graduates of this program will be well-equipped for whatever path they take.
And they will be highly sought after. It is estimated that over the next two decades, 87 new pilots will need to be trained and ready to fly a commercial airliner every day to meet the demand for air travel. According to the U.S. Bureau of Labor Statistics, overall employment of airline and commercial pilots was projected to grow 6% from 2018 to 2028. Most job opportunities will arise from the need to replace pilots who leave the occupation permanently over the projection period. The median annual wage for airline pilots, copilots and flight engineers was $147,220 in May 2019. The median annual wage for commercial pilots was $86,080.