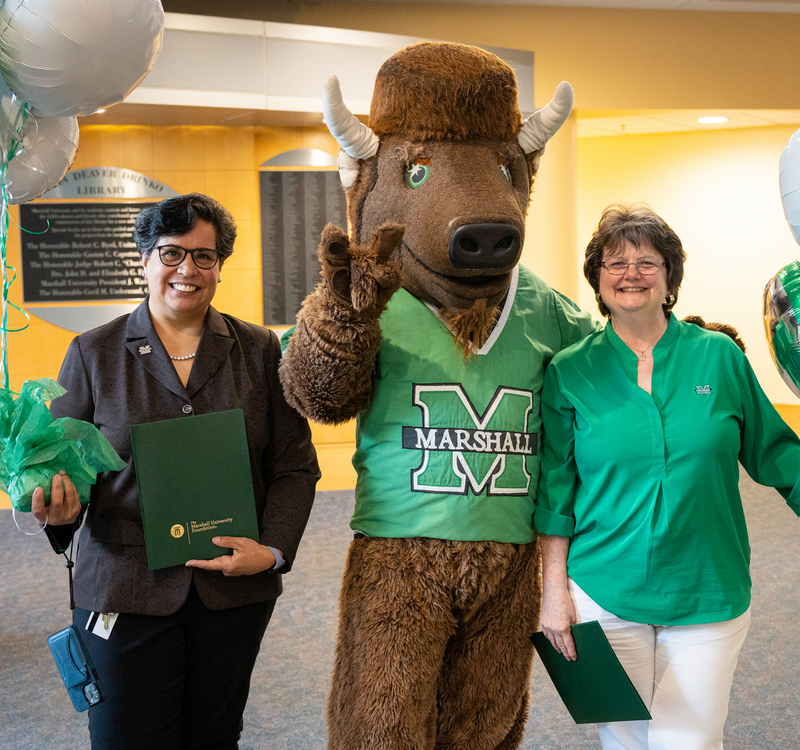 On Sept. 6, six Marshall University staff members received quite the surprise, complete with balloons, visits from Marco and Ms. Marshall, and most of all, recognition for their years of generous contributions to the Marshall University Foundation.
The surprises were a part of the Marshall Foundation's Thank A Donor Days, which took place Sept. 26-30, and celebrated the university's various supporters from staff giving, scholarship endowments and friends and family members of students who helped them achieve their dreams.
Thank A Donor Days also celebrated the conclusion of the Marshall Rises campaign, the Marshall Foundation's first comprehensive campaign, which raised $176 million for the university in six years.
"The Marshall Rises campaign has been tremendous. I think it helps with our national prestige, especially with our peers in comparison," said Monica Brooks, dean of university libraries. "We're a force to be reckoned with. We've elevated our academic standing, our athletic standing, and now we're elevating our financial standing."
While the decision to give to the Marshall Foundation varies slightly among each staff member, it is always rooted in student success.
Perry Chaffin and Bob Walker both work in Marshall's finance department. Though, the similarities don't end there. Both are from Kenova, West Virginia, and were both first-generation college students. While they are nearly 10 years apart in age, they even grew up on the same street. For both Chaffin and Walker, giving to Marshall was their way of saying "thank you" for the opportunities they received after earning their degrees.
"I felt that I should give to the Foundation because I had opportunities that others in my family did not," said Chaffin, director of internal audit. "I was given this jumpstart, so I decided to give back. I felt really proud and fortunate that my parents would support me. My parents really valued an education, and said, 'Hey, we want better for you.' It was just a great situation, and that's really what got me started giving."
Walker found that giving to the Marshall Foundation allowed him to extend the same opportunities he had to students who might face disadvantages.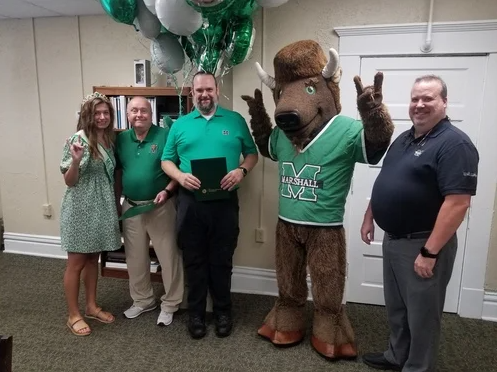 "I wanted to support the university because it supported me in getting the education I have, and to be where I am today," said Walker, director of finance information. "I thought it's best to support where you come from. I like to think I'm helping someone who may not have the same opportunity to get an education, which I feel is very important for everyone."
Karen McComas and Mary Beth Reynolds know firsthand the importance of what a quality education can provide. Both work in the Office of Academic Affairs and are instrumental in crafting the university's curriculum. McComas is the interim associate vice president for academic affairs and associate provost. Reynolds is the associate provost and associate vice president for assessment and quality initiatives.
"The most important part of a university is the students. Everything we do is in service of students," Reynolds said. "When I first became a faculty member at Marshall, I felt like that was almost a sacred trust."
Reynolds and her husband, Nick, decided to start contributing to the Marshall Foundation because of the impact the university has made in their lives and the lives of their children as members of the Huntington community.
For McComas, the decision to give was an important one, both professionally and personally.
"For me, Marshall is a family affair," McComas said. "My father graduated from Marshall in 1945. I came here in 1973 as a freshman, and since then, with the exception of two years, I have either been enrolled or employed by the university. My entire adult life has been wrapped up in this place, so I feel really deeply committed to it."
Because of the generosity and commitment of Marshall's benefactors, the university has been able to make significant strides in the 21st century.
Patsy Stephenson, document librarian, has been with the university for 41 years. In that time, she has witnessed the dramatic changes across campus, particularly for the university's libraries.
"I think the most inspiration has been the online learning and everything you can do with computers," Stephenson said. "When I started here, we had a few computers and people had to stand in line to use them."
But for Stephenson, it's not just the changes you can see up close. It's the incremental changes that build over a period of years or decades.
"I had graduated from here. My husband went to school here. We had our son and we knew that he would go here. It was a part of giving back," Stephenson said. "When you are here for so long, you see what even just $1 can do. So, through the years, you want to give back and want to see everything grow."