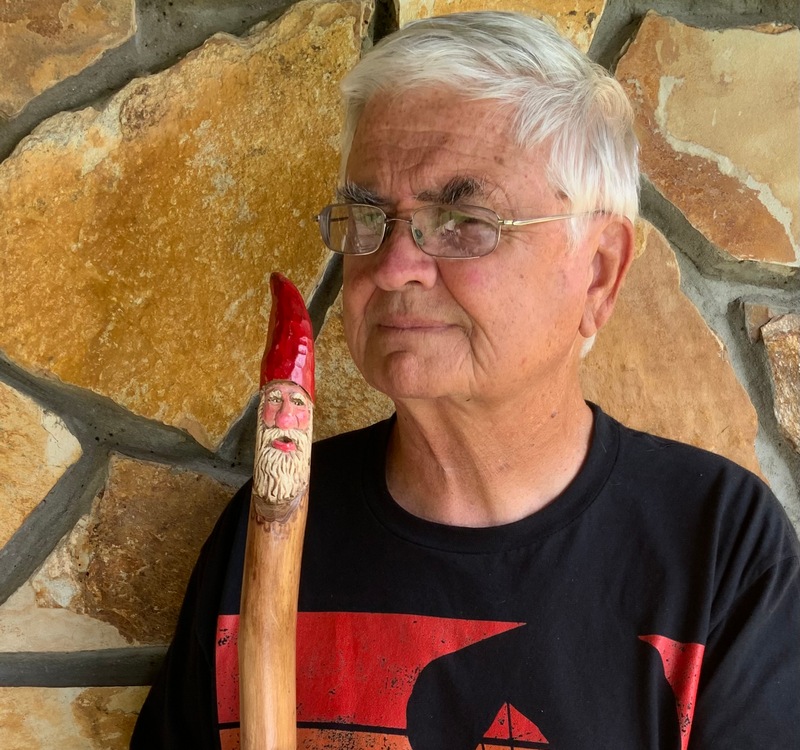 According to Jan Haddox, nothing in his life has been planned.
Haddox, a long-time resident of Mason County, West Virginia, built a career as an educator and later as an artist. Haddox graduated from Marshall University in 1970 with degrees in art and language arts.
"I had just gotten out of the service," Haddox said, of his decision to attend Marshall. "I had always been a Marshall fan, and I have two brothers-in-law who had athletic scholarships to Marshall. I have a brother-in-law who played football for Marshall in the '70s. Actually, my mother-in-law wouldn't have allowed me to go anywhere else."
Haddox said he always knew how to draw, which is why he chose to major in art, but he double majored in language arts on a bit of a whim.
"Most of what I've done in life just happened," he joked. "Not a lot of planning."
Nonetheless, Haddox took those majors and ran with them, eventually obtaining a master's degree from Marshall in vocational education, and certifications in gifted education, elementary education, a principal's certification, and lastly, a certification in social work.
During his time at Marshall, Haddox taught a class as a graduate assistant on the personalities in West Virginia History, which later inspired the subjects of many of his paintings.
"We talked about the history of West Virginia, and the reasons why they came here," Haddox said.
After graduating, Haddox worked in the Mason County school system. He started as a reading teacher before becoming a vice principal and principal. He then served as an attendance director overseeing attendance and social work.
"I did get to help a lot of kids," Haddox said. "I was an advocate, and kids need an advocate more so today than ever."
Haddox retired in 2000, but taught nights at Marshall's Mid-Ohio Valley Center from 1999-2016. Once retired from education, Haddox turned his attention to a new passion.
"I didn't really paint until I retired," Haddox said. "I'd always done artwork. I did the logo for the Point Pleasant River Museum and other businesses. I did whatever people needed, and if I didn't know how to do something I learned on the job."
Haddox's work, which can be found on his website www.jansprints.com, initially combined his love of history and art when he first began painting regularly. Many of his paintings feature historical figures in West Virginia history, including Mad Anne Bailey, Cornstalk, Simon Kenton and Chief Logan. Haddox has since branched out to feature landscapes and still life, as well as pet portraits and wildlife, affectionately called "Janimals."
Haddox's work has been exhibited at the Tamarack's Fine Arts Gallery in Beckley, West Virginia, as well as the Huntington Museum of Art in Huntington, the West Virginia Cultural Center and State Museum in Charleston, and outside the state in Columbus, Ohio, and Chillicothe, Ohio. Haddox also offered historical insight to Robert Griffin, who painted the mural along the floodwall in Point Pleasant, West Virginia.
Though his work stretches across many counties and cities in the Ohio River Valley and is considered in-demand by those around him, Haddox creates his artwork primarily for the good of the community.
"I do some commissions, but it's mostly free," Haddox said. "One of my favorite presents is just to give somebody artwork."
In addition to Haddox's well-known career as an educator and artist, he is also heavily engaged in different service projects and giving back to his community.
Haddox has served on the Mason County Public Library board, during which the library board built three new libraries, and he also served on the Mason County Development Authority board. The MCDA focuses on fostering new businesses and a strong economy in the Mason County region.
Perhaps Haddox's biggest passion project of late is the Mason County Veterans Memorial. The Veterans Memorial will establish a permanent tribute honoring all Mason County, West Virginia, veterans from World War I to present day that have been honorably discharged, all those who currently serve, and those who will serve in the future. Haddox, who is a United States Army veteran and served during the Vietnam War, is the art consultant for the project.
Steve Halstead, president of the Veterans Memorial project, said Haddox is a true asset to their community.
"Jan was the first person I thought of for the project because of his art abilities and history awareness," Halstead said. "He's been a staple and is always involved in the community."
The Veterans Memorial project began in February 2022 and is divided into two phases. The first phase will recognize Congressional Medal of Honor Recipients, including a bronze statue of U.S. Army Staff Sergeant Jimmy G. Stewart, a recipient and Mason County native who was killed in the Vietnam War. Phase one will also honor the fallen veterans from Mason County who were lost in battle from World War I to present day, as well as list the names of the POW-MIA, and the six branches of service. Phase two will honor all Mason County residents who served in the U.S. military and were honorably discharged.
Haddox and Halstead said they are pleased with the positive response they've received regarding the memorial.
"It's a huge project," Haddox said. "We're shocked at how much support we've gotten from the community, it's just super. That's the kind of community we live in here."
The committee broke ground on the project in November 2022, and is planning a dedication on Veterans Day 2023. The memorial will be located next to the Bridge of Honor in Mason. More information about the Mason County Veterans Memorial can be found at www.mcwvvm.org.