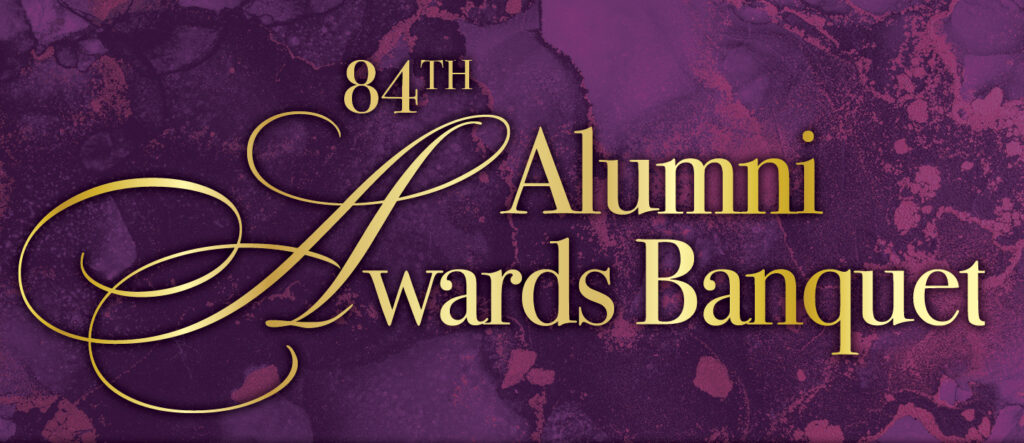 Marshall University and the Marshall University Alumni Association (MUAA) are set to host the 84th annual Alumni Awards Banquet on Saturday, April 1, beginning at 6 p.m. with a reception followed by dinner and awards at 7 p.m. at the Brad D. Smith Foundation Hall.
The Marshall University Alumni Awards Banquet recognizes outstanding alumni, university supporters and students during an evening of celebration and reverence of the great things being accomplished by the Marshall University alumni community.
Highlighting the list of more than a dozen honorees at the 2023 awards banquet are Bill Noe and Dr. Randi D. Ward as the recipients of the Marshall University Distinguished Alumnus and Alumna award. Randy Dunfee has been selected as the recipient of the Distinguished Service to Marshall University award. Mendy Aluise has been selected as the recipient of the Outstanding Community Achievement award, and Christopher Taylor will receive the Distinguished Young Alumnus award.
Other awards scheduled for the evening will include the MUAA Chapter of the Year, this year being a tie and awarded to the Marshall University Alumni of the Mid-Ohio Valley and the Southern Coalfields Alumni and Big Green Chapter located in Parkersburg and Beckley, West Virginia, respectively.
Individual Awards of Distinction will also be presented during the event to honorees from each of Marshall's schools and colleges. This year's Awards of Distinction will go to Sassa Wilkes (College of Arts and Media), C. Zachary Meyers (College of Business), Lucianne Call (College of Education and Professional Development), Adam Weibel (College of Engineering and Computer Sciences), Denise Hogsett (College of Health Professions), Dr. Janine Janosky (College of Liberal Arts), Jody Ogle (College of Science), Dr. Robert J. Cure (Marshall University School of Medicine), and Dr. Sarah Dunaway (Marshall University School of Pharmacy).
"We're so excited to welcome alumni back to campus for our annual awards banquet" said Matt James, executive director of alumni relations. "This event is an opportunity to recognize the remarkable achievements of our awardees while also highlighting the important work our alumni chapters are doing across the country. I can't wait to honor some of the very best members of our Marshall Family."
Born in Ashland, Kentucky, and raised in Huntington, Bill Noe is the chief aviation officer for the division of aviation at Marshall. Noe, an accomplished pilot and business executive, is the former president and chief operations officer for NetJets, a global private jet company based in Columbus, Ohio.
Before Noe reached for the skies, he dove below the waters of the Huntington Olympic Pool at the tender age of 4. He was noticed by Huntington YMCA swim team coach, Bob Shaw, who approached him about competitive swimming. Noe began breaking local and state records at a young age, which led him to attending Marshall and joining its swim team. One of Noe's biggest accomplishments while at Marshall was the 1983 Southern Conference Swimming Championship, where he set six pool, six school and six conference records while leading Marshall to the championship. He also won the "Most Valuable Swimmer" award. Noe was inducted into the Marshall Athletics Hall of Fame in 2020.
Noe left Marshall his junior year, though he returned and earned his Regents Bachelor of Arts degree in 2005, to work for an industrial contractor. The owner of the company was a pilot who invited Noe on his plane one day, which led to his decision two years later to attend the FlightSafety Academy in Vero Beach, Florida. Noe later worked for American Flyers, a well-known training academy, but had his eye on a bigger prize – working for NetJets – which he ultimately achieved. He climbed the NetJets ladder, eventually becoming president and COO in 2006.
Before becoming chief aviation officer at Marshall, Noe served on the university's board of governors. Marshall's flight school is named in his honor.
Dr. Randi D. Ward is an educator, chancellor of World University of Leadership and Management, best-selling author, editor and entrepreneur. She graduated from Marshall in 1971 with a bachelor's degree in language arts, setting forth her 37 years as an educator in West Virginia and Georgia.
In 2011, Ward taught English as a second language in Cairo, Egypt. Her time in Egypt had a profound impact on her, and as such wrote her memoir "Because I Believed in Me (My Egyptian Fantasy Came True)." In 2013, Ward founded Rise Up, an adult English language center, with Ahmed Mohamed and Ehab Mohamed, as well as 6 October English Institute with Samar Farouk, which opened in 2014.
Ward has many varied interests and passions. She is a world traveler and has toured and visited 61 countries on four continents, including four trips to Egypt. She penned a second book, "Dream Bigger," and is working on a new novel "Random Wanderings." She is also a writer and the chief editor for Morocco Pens, an online Moroccan magazine featuring educational articles and essays in English.  She is a professional motivational speaker and dreams of having her own interview platform to feature talented people around the world and plans to pursue these goals in the near future.
In addition to receiving the Distinguished Alumna award, Ward is the recipient of many other awards and accolades, most recently being recognized as Strathmore's Who's Who 2022 Lifetime Achievement award and Hoinser Group's 2022 Inspirational Leader of Excellence.
In other categories, Randy Dunfee is the recipient of the Distinguished Service to Marshall University award, Mendy Aluise is the recipient of the Outstanding Community Achievement award, and Christopher Taylor is the recipient of the Young Alumnus award.
Dunfee is a Huntington native, entrepreneur and businessman. He graduated from Huntington East High School while working in the afternoons and evenings. His ambition led him from being a stock boy at Fabric Town Interiors to purchasing the company when he was just 21 years old. He is still president of the company and fully active in the day-to-day operations. What began as a business specializing in fabrics has grown to include flooring, carpet, window treatments, upholstery and more. Dunfee has worked with notable clients, including Jay Rockefeller when he was governor of West Virginia and Warner Bros. where he provided set décor for "We Are Marshall." The famous green carpet at the movie's premiere in 2006? That was all Dunfee.
Dunfee is a lifelong Marshall fan, and his support for the university has only grown the more involved he has been through the years. Dunfee has worked extensively with the Big Green Foundation and the Quarterback Club, as well as supporting Marshall through the Vision Campaign. In addition to his support to Marshall, Dunfee also supports Hospice of Huntington, Facing Hunger Foodbank and the Boys and Girls Club.
Aluise is a partner at the Huntington-based accounting firm Somerville & Company PLLC. Aluise began her career with Somerville after she graduated from Marshall in 2004. During her career, she has been involved with several professional organizations, including the Huntington Chapter of the West Virginia Society of CPAs, which she served as president from 2015-2016, and currently serves as treasurer of the West Virginia Society of CPAs and is slated to become president in 2025.
Aluise has also been involved with several local nonprofit organizations, including Hospice of Huntington, Marshall Artists Series, Generation Huntington, which is a subcommittee of the Huntington Regional Chamber of Commerce, and she served on the Marshall University Alumni Association board of directors. For many years, Aluise was a long-time board member and vice president of Girls on the Run of Cabell and Wayne County, which aims to empower elementary school-aged girls.
Taylor is the chief technology and information officer at Saint Augustine's University in Raleigh, North Carolina. He graduated from Marshall in 2008 and earned a bachelor's degree in computer forensics. After leaving Marshall, he worked with the Transportation Security Administration and Department of Homeland Security. As part of his work, Taylor, who grew up in Keyser, West Virginia, was able to travel to several major cities across the country. At present, Taylor has visited 43 states. He also owns his own company, Melanin Travels LLC, which encourages all people, but specifically people of color, to travel more. Through his company, he has traveled to Aruba, Dubai, Rome, Lisbon, Barcelona, Dominican Republic, Egypt, Mexico and Jamaica.
After leaving TSA and DHS, Taylor moved to South Korea and taught English as a second language at Noble Academy. When he returned to the U.S., Taylor moved to Washington, D.C. and worked at the Securities and Exchange Commission as a government contractor. In 2014, he received his Cisco Certification and moved to San Francisco. In 2017, he returned to the East Coast and moved to North Carolina. His ultimate goal is to become the chief technology officer or chief information officer of Google or Samsung, which are his two favorite tech companies.
Other honorees at the annual alumni awards banquet include Tia Wooding (Fran Jackson Scholarship), Jaedyn Harris (Janis Winkfield Scholarship), and Destinee Leggett (Nate Ruffin Scholarship).
For more information visit www.herdalum.com.