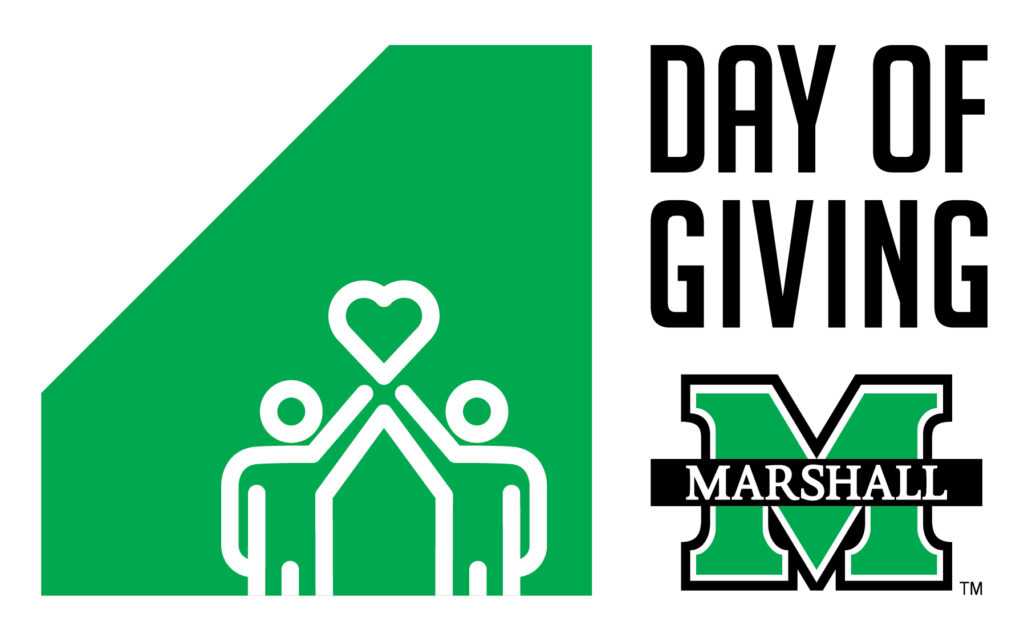 Marshall University alumni and supporters will have an opportunity to make their mark on the university during the second-ever day of giving across two days April 26-27.
Hosted by the Marshall University Foundation, this event is an opportunity for the Marshall family to join together and make a lasting impact on the students of Marshall and to help shape the future of the institution. Beginning at noon on Wednesday, April 26, Marshall's Day of Giving will feature 36 hours of giving thanks, with stories, updates and interactive elements throughout the event on the Foundation and Marshall University social media feeds and websites.
Marshall University alumni and supporters are encouraged to participate in this transformational day by visiting givingday.marshall.edu.
"Philanthropy is near and dear to my heart," said Marshall University President Brad D. Smith. "It is an opportunity to give back and support the things we love. On April 26-27, I encourage the entire Marshall family to come together and support our great university on Marshall's Day of Giving as we recognize those who support our students, our campus and our mission through giving."
While Marshall has participated in national giving days in the past, this will be the second time the university has set aside its own day dedicated to garnering financial support and highlighting those who give back to the university. The previous day of giving, which took place in October 2021, raised nearly $80,000 for the university. This year's goal is $100,000.
"Setting aside a day dedicated to recognizing those who make a profound impact on our institution through financial support is just one of the ways we can say thank you," said Dr. Ron Area, CEO of the Marshall University Foundation. "Marshall's Day of Giving is a great way for members of the Marshall family to make a difference and show their support for the university. Because all gifts, no matter the amount, add up to making a real difference for the students of Marshall."
Marshall's Day of Giving comes on the heels of the highly successful Marshall Rises campaign, the largest comprehensive campaign in the history of the university, which concluded last year. Marshall Rises raised more than $176 million in support of the university, with more than 50,000 gifts recorded during the campaign.
One area most directly impacted in recent years is student support, with more than 500 additional students receiving scholarship aid annually than before the start of the campaign. In total, scholarship aid increased by 44% during Marshall Rises, with $5 million in scholarship aid awarded annually over the past three years from more than 2,200 privately funded scholarships.
Marshall Rises also generated an unprecedented response from the alumni community and supporters of the university, with one-third of all gifts given during the campaign generated by first-time donors.
Additionally, money raised through this, and other initiatives, has helped shape new programs such as the Division of Aviation at the Bill Noe Flight School, and is helping transform the Huntington campus through the building of a brand-new facility for the Lewis College of Business and Brad D. Smith Schools of Business, which is slated to open in 2024.
Through the financial support of a strong alumni community, Marshall has grown in stature and prestige over the past decade, reflected in the university's designation as a Doctoral University: High Research Activity, or "R2" status, in 2019, and a diverse offering of programs for students.
"In 2021 we broke away from traditional national giving days to create our own special day at Marshall," said Griffin Talbott, program director of the annual fund at the Marshall University Foundation. "We want to use this day to say thank you to all those who make an impact through giving each and every year. At the same time, we want to educate our alumni community and university supporters on how every gift made to Marshall equals real change in the classroom, on campus, in the community and around the world. We hope the Marshall community will join us on April 26 as we give thanks to our donors and encourage you to join that community with a gift of your own."
For more information about making an impact through giving, contact the Marshall University Foundation at (304) 696-6264 or visit marshall.edu/foundation.