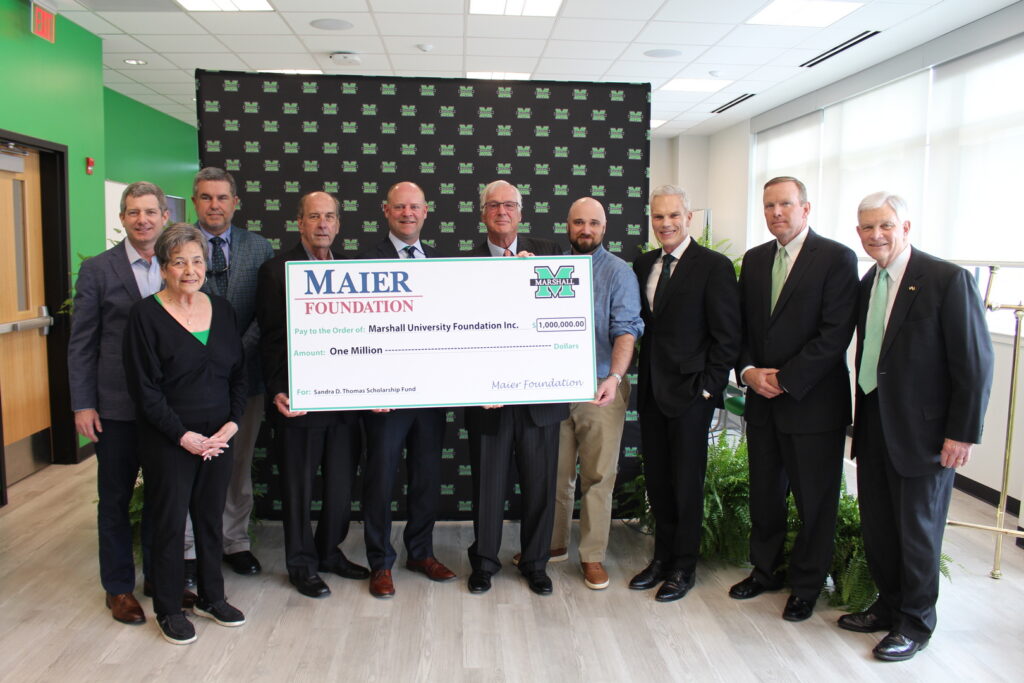 The Marshall University Foundation is pleased to announce the Maier Foundation has pledged $1 million to establish the Sandra D. Thomas Scholarship Fund at Marshall University.
Sandra D. Thomas, a Raleigh County native and 1977 graduate of Marshall University, was a former member of the Marshall University Board of Governors and an 18-year board member of the Maier Foundation. After a courageous battle with cancer, she passed away in 2022. The scholarship fund will benefit need-based undergraduate students from West Virginia, with preference to students from Raleigh County.
Bradley Maier Rowe, chairman and president of the Maier Foundation, said Thomas was a champion for bettering the education of West Virginians, and expressed his heartfelt gratitude for all that she did for the state.
"Sandy had a steadfast commitment to improving higher education throughout the state of West Virginia," Rowe said. "The Foundation is honoring her legacy by creating the Sandra D. Thomas Scholarship Fund at Marshall University. This endowment will make it possible for Raleigh County students to follow in her footsteps and pursue their education at her alma mater."
In addition to her time with the Maier Foundation, Thomas was also appointed to Marshall's Board of Governors in 2019 by Gov. Jim Justice. She served on the Athletics Committee, Investment Committee and was vice chair of the Finance, Audit and Facilities Planning Committee.
"Sandra was a valuable member of the Marshall family," said Brad D. Smith, president of Marshall University. "We are pleased that she is being honored by providing the gift of an education to a Marshall student. We applaud our friends at the Maier Foundation for recognizing Sandra with this generous gift in her name."
Patrick Farrell, chair of Marshall's Board of Governors, added that Thomas was a hard worker and was committed to the betterment of Marshall University as a nationally recognized institution of higher learning.
"The legacy of a great leader is not just the impact they make in their lifetime, but the lasting impression they leave on the institutions they serve," Farrell said. "The Sandra D. Thomas Fund is a testament to the remarkable contributions of a beloved member of our board. Sandy's unwavering dedication to Marshall University and our students is an inspiration to us all. As we honor her memory through this fund, we are reminded of her commitment to putting students first and ensuring that their success is at the heart of our mission. The Sandra D. Thomas Fund will serve as a beacon of hope for generations to come, embodying the values and vision of a true champion of education."
Thomas built a successful 40-year career as a CPA in Charleston, West Virginia, and was widely credited as the first woman to achieve partner status at a major accounting firm in the state. She was also dedicated to non-profit work both in Charleston and across the country, serving as national vice president for the Garden Club of America, chair of the CAMC Foundation, president of the Fund for the Arts, as well as serving on the boards of other area charities. Thomas was also an elder and trustee for The First Presbyterian Church in Charleston.
The Sandra D. Thomas Scholarship Fund is generously supported by the Maier Foundation, a private, non-profit, charitable corporation that is dedicated to the furtherance of higher education in West Virginia and the higher education of West Virginia residents attending colleges and universities elsewhere. The fund will provide each students' cost of attendance, including tuition, fees, room and board, books and other educational expenses. The scholarship is renewable for four years pending the student maintaining good academic standing.
For more information about this fund, or to make a gift to Marshall University, please contact the Marshall Foundation at (304) 696-6264. For news and information about the Marshall Foundation and Alumni Association, follow us online at www.marshall.edu/foundation.