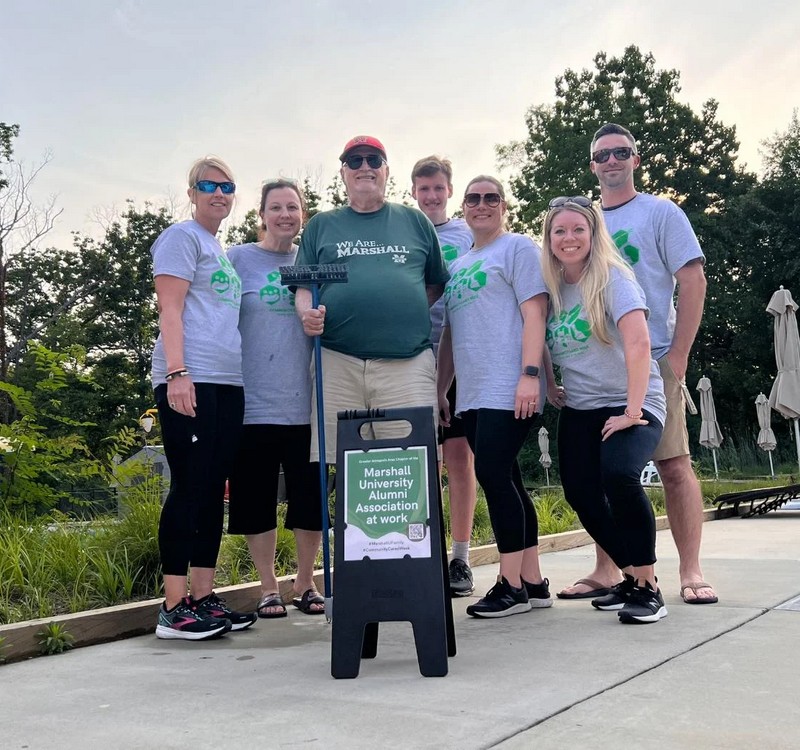 As students return home for the summer, Marshall faculty, staff, alumni and community partners are once again joining forces for the second annual Community Cares Week: Giving Back to the Herd from May 23-26.
In the event's inaugural year, 451 volunteers contributed a total of 1,240 hours of service doing landscaping, painting, pressure washing, deep cleaning and completing other special projects.
Marshall University President Brad D. Smith said the event is all about pitching in time and effort to help the university we all call home.
"Last summer, our campus and community came together to embrace the idea of seeking creative ways to support worthwhile causes by donating our time, our talent or our treasure," Smith said. "The idea emerged to tap into the amazing talent in our community and enlist an investment of time to assist us with completing some projects across our campus. Our first Community Cares Week was born, and it was an amazing success."
Matt James, executive director of alumni relations, said the event truly encompasses the idea of the Marshall family, so it's especially important for alums to take part.
"Events like these are critical because our alumni are the lifeline of our Marshall family," James said. "As President Smith says, 'Marshall for all, Marshall forever!' Our alumni are forever a part of our family, and they play a pivotal role in helping us achieve our institutional goals. We need 'all hands-on deck' for this year's Community Cares Week—specifically, from our Herd alumni network around the world."
The Marshall University Alumni Greater Annapolis Area Chapter formed earlier this year and has hit the ground running with its involvement in Community Cares Week being the chapter's second event. The first event was a meet and greet on April 22.
"It was really important for our chapter to participate as our leadership team felt it was an opportunity for us to support the university by giving back to the community even many miles away," said Megan Barbour, chapter president. "The Marshall family cared about each of us during our time at the university so it's our turn to show we care about the community of Marshall."
The Annapolis chapter will volunteer at the Kenneth R. Dunn Municipal Pool at Truxtun Park, which is gearing up for its summer season.
"The pool we are volunteering to clean at is always full of high school students and we hope our volunteering there continues to spread the word of Marshall and encourages young persons to be curious, explore their educational options and maybe find their college family in Huntington at Marshall," Barbour said.
Down in the South, the Marshall University Alumni Association Raleigh-Durham Chapter will provide travel kits to its local USO, based at the Raleigh-Durham International Airport in Morrisville, North Carolina. The chapter is also encouraging local teachers to send artwork or notes from their students to share with the military personnel.
"North Carolina is home to several military bases, including Fort Bragg, the largest military base in the country," said Barbara White, chapter president and chair of the chapters committee of the Marshall University Alumni Association board of directors. "For many of us, we want to give back to people who make so many sacrifices for our country, and as Marshall grads, we realize that some of these members are from our home state, or perhaps even Marshall alumni given that we have an active ROTC program.  It's a small way to say, 'thank you for your service.'"
White said Annette Green, a member of the MUAA board of directors, identified the need for the travel kits and shared the idea with the chapter leadership team. Green is a USO volunteer at the RDU Airport and is spearheading this project in addition to her regular activities as a USO volunteer.
Members of the chapter's leadership team will collect funds to purchase, assemble, transport and deliver the items to USO officials.
Back home in Huntington, the Marshall University Greater Huntington Alumni Chapter will contribute to an array of projects on Marshall's campus.
Jill Jackson, co-president of the chapter alongside Melissa Blatt, said it was essential for the recently reestablished chapter to take part in Community Cares Week.
"It's been my goal since I joined the MUAA board to relaunch the chapter," Jackson said. "For this to be one of our first projects is just the perfect opportunity to be together. I want this chapter to be the flagship chapter as Marshall is right in our backyard and as such, we need to be involved with events like this."
Other contributing alumni chapters include the Marshall Alumni of the Mid-Ohio Valley, Myrtle Beach Marshall Alumni Chapter, Marshall University Black Alumni, Marshall University Southern Coalfields Alumni & Big Green Chapter, Cincinnati/Northern Kentucky Alumni Chapter, Eastern Panhandle Alumni Chapter, and Society of Yeager Scholars Alumni Chapter. More than 80 volunteers from among the chapters will participate.