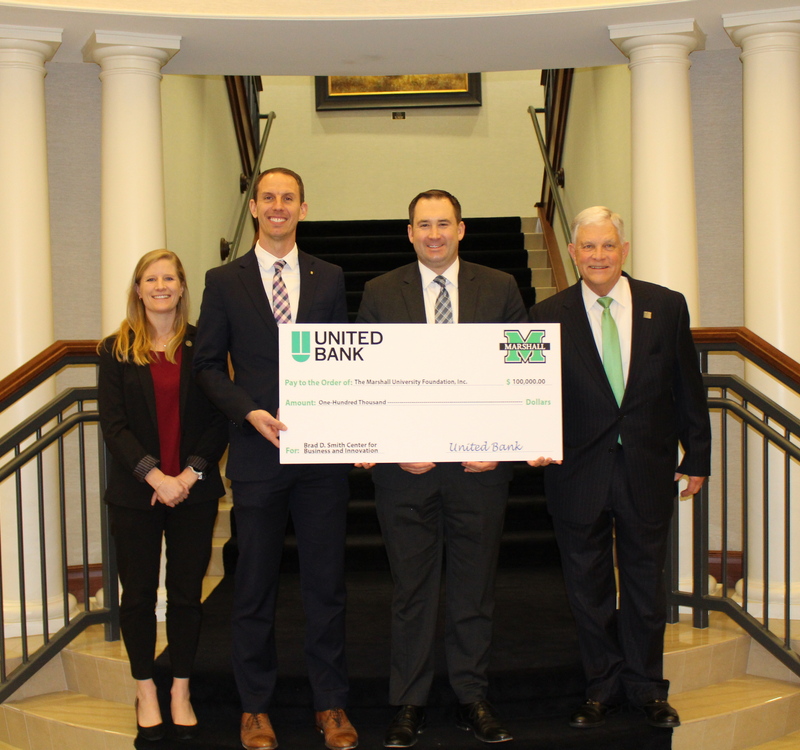 The Marshall University Foundation and United Bank have announced that the bank has pledged a $100,000 gift in support of the new Brad D. Smith Center for Business and Innovation at Marshall University.
In addition to investing in the new building, the student organization space in the facility will be named in honor of United Bank for their support of Marshall University.
Andrew Dawson, market president of United Bank's Huntington market, said that investing in Marshall's newest academic facility is also an investment in Huntington and the region.
"At United Bank, we are proud to invest in our communities, the state we call home and local students through education. It is important to invest in the new College of Business because of how pivotal Marshall University and the College of Business are to the local and regional economy," Dawson said. "Marshall is integral in educating and training the next generation of talent in the region. Once graduates enter the workforce, it is going to raise the talent level in the region. We will begin to see an influx of high-level students and professionals to the region because of this significant investment in high-quality business education."
Dr. Ron Area, chief executive officer of the Marshall University Foundation, added that it is strong partners like United Bank that are helping make the vision of this new facility a reality.
"The key to the success of the new College of Business facility is our partnership with local and regional businesses that will help us grow and provide a strong measure of support for Marshall's students," Area said. "United Bank is a great example of one of those partnerships. We thank them for stepping up and investing in Marshall and its students."
Originally founded in Parkersburg in 1839, United Bank maintains a deep commitment to the communities it serves and a strong presence in its founding state, where its holding company, United Bankshares Inc., is the largest publicly traded company in West Virginia, headquartered in the state capital of Charleston. With nearly 250 locations and 3,000 employees throughout West Virginia, the Mid-Atlantic and the Southeast, United Bank has a history of safe, sound and secure banking practices dating back more than 180 years.
Heading up United Bank's relationship with Marshall's home in Huntington, Dawson has his own roots in this community. A 2008 graduate of Marshall's College of Business, Dawson has spent the past 15 years with United Bank and is excited to see the new business facility open its doors in 2024.
"The new College of Business will bolster the local community, Tri-State and entire state by providing a new level of education to graduates," Dawson said. "The graduates will be ready to enter the workforce and make an immediate impact on the companies where they begin their careers."
The new state-of-the-art facility is currently being built in the 1400 block of 4th Avenue on a plot of land that formerly housed the Flats on 4th apartment complex. It is scheduled to open in January of 2024.
The building, which will also serve as a center for the economic development of the region, will provide conference facilities capable of hosting both small and large business gatherings. Additionally, the building will serve as the hub for student-centric activities, providing students not only with instructional facilities but also facilities encouraging interaction and collaboration.