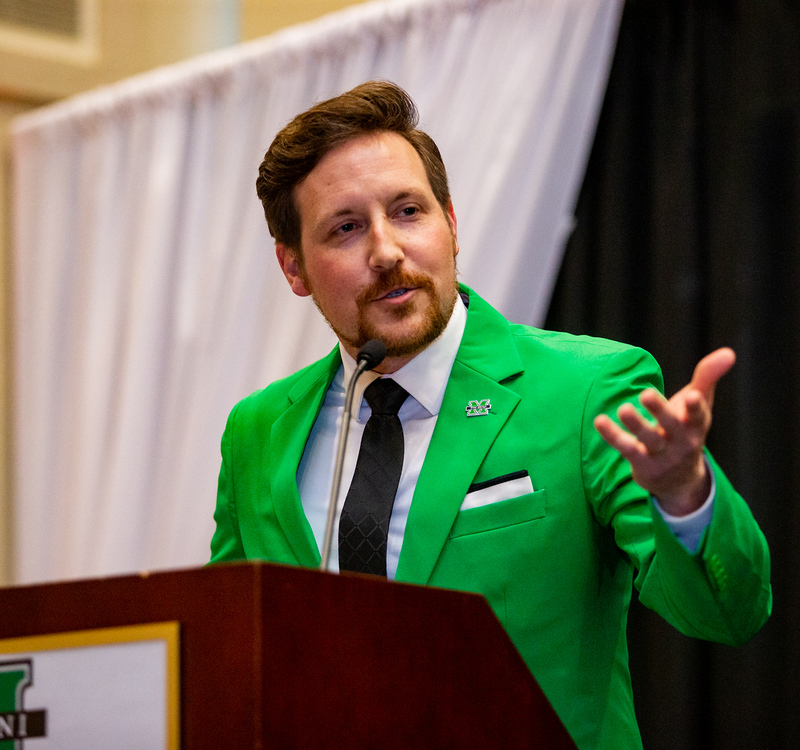 In the fall of 2022, the Marshall University Foundation announced the hiring of Matt James as the new executive director of alumni relations at Marshall University.
A bright young mind from Bluefield, West Virginia, with more than a decade of experience on the student side of the university, James hit the ground running with a plethora of fresh ideas and a vision for how to better connect Marshall's alumni population to the university. Through that vision, James hopes that alumni around the globe will experience a renewed passion for their alma mater and, in turn, get involved in ways that they never have in the past.
So where does that vision begin? Right in their own backyards through an extensive alumni chapter network.
"My first mission in this position is to rebuild our alumni chapters around the world," James said. "It is no surprise that the pandemic was detrimental to many programs, but especially difficult for our alumni chapters. After assuming this position in October, our alumni and Foundation team wasted little time facilitating the growth and cultivation of multiple alumni and affinity chapters.
"We are also working closely to support President Smith's vision and priorities, specifically to grow enrollment, build scholarships and provide mentorship and employment opportunities for our students and alumni. I also feel compelled to identify fresh and innovative ways to engage our young alumni population. We are in the process of strategically planning new initiatives and programs to grow our young alumni network and celebrate their accomplishments."
Alumni chapters are a vital cog in the wheel of success at Marshall. Each alumni chapter provides its members with the means to stay connected to Marshall, while offering unique events and opportunities to give back to the university. These chapters can be regionally based, or affinity based centered around specific programs, areas of study or shared interests.
To facilitate success across these groups, all alumni chapters share in four key principles for advancing the goals and objectives of Marshall. Those goals are achieved through student recruitment and enrollment, professional mentoring and networking, fundraising and scholarships and overall university support and fellowship opportunities. In summary, alumni chapters provide a place for passionate supporters of Marshall to gather and make a difference for their alma mater.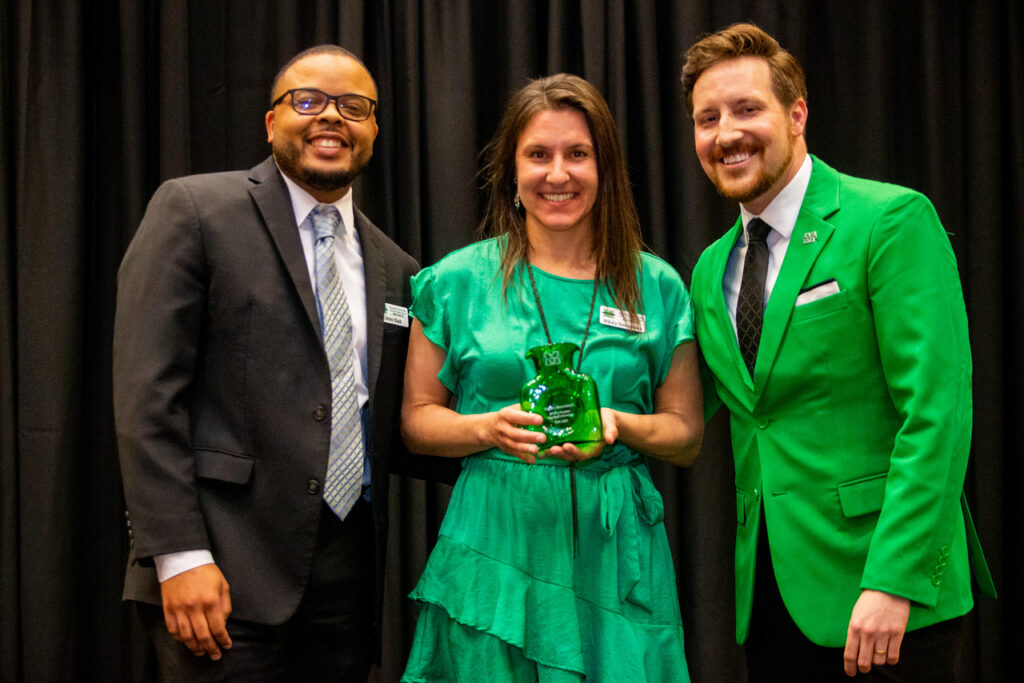 "Alumni chapters are a great way to gather together and cheer on the Herd in a welcoming environment of individuals that shared together in the Marshall experience," James said. "But our hope is that these groups go far beyond simply watching games together. We want our alumni to get involved and to give back, either through service by helping recruit and mentor students and young alums, or financially through supporting important initiatives on campus such as scholarships. Either way, I think alumni chapters are the key to future success at Marshall."
Over the years, alumni chapters have provided outlets for game watching parties, family gatherings and academic interests, while at the same time helping recruit students from their region to Marshall through high school outreach and fundraising. Marshall's alumni chapters have raised millions of dollars for scholarships and have provided the funding needed for thousands of students to obtain degrees.
Leaning on past successes, combined with his own vision for the program, James hopes to see the alumni chapter network thrive like never before over the coming years. Already, James has seen an outpouring of support from individuals looking to start new chapters in their area, and through others looking to rekindle previously thriving groups.
"Over the next decade, I can see a path toward a thriving global alumni network of dozens of chapters that are collectively contributing to increased scholarships, mentoring and job opportunities for our students," James said. "I am also striving to create new programs to bridge the gap between our student body and our broader alumni base through mentoring programs like our student-alumni ambassadors. I can see a future with annual events on the eve of every commencement to connect graduates with regional alumni chapters based on where our students plan to move after graduation. Lastly, I see alumni relations playing an even larger role in recruitment endeavors and academic initiatives in future years.
"In large part, our alumni are currently an untapped resource that we plan to leverage with more intentional practices moving forward."
Having spent the majority of his life serving his alma mater, James is excited about the new direction of alumni relations, and looks forward to connecting with people who have supported the university for years, as well as with individuals that have fallen out of touch with Marshall.
"I fell in love with MU and never left, having spent exactly half of my life here over the past 19 years as a student and staff member," James said. "The impact Marshall University has made on my life is immeasurable. I'll never be able to pay back everything this school has given to me over the last two decades. Marshall is a special place, but it's the people who make it so special."
For more information about alumni chapters, contact the Office of Alumni Relations at (304) 696-2523 or alumni@marshall.edu.