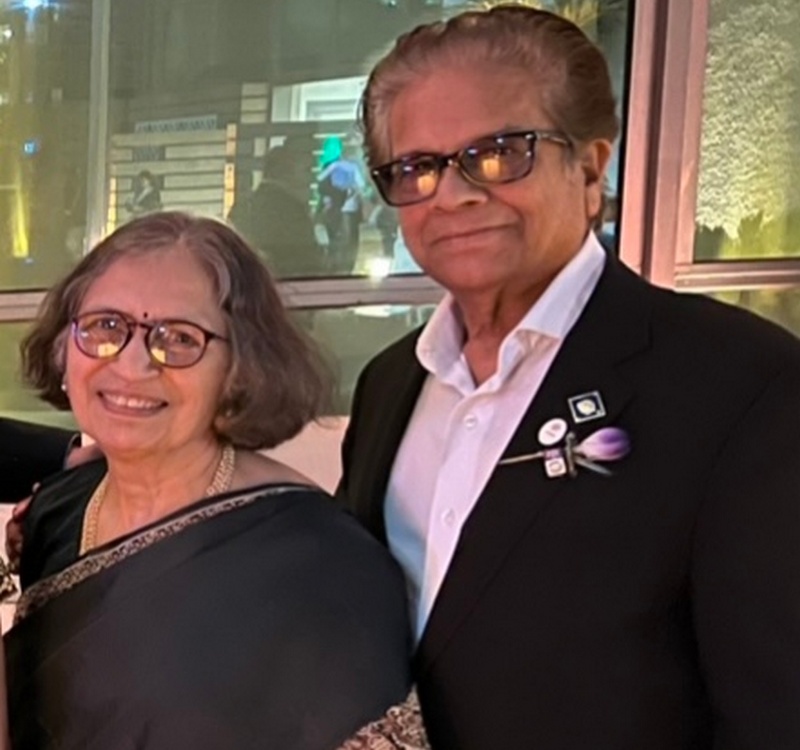 Leela V. Raju, M.D., followed in the footsteps of her parents, Dr. Vadrevu K. and Rani Raju, when she, too, chose a career ophthalmology. Now, she is establishing a new scholarship at the Marshall University Joan C. Edwards School of Medicine in honor of her parents dedicated to supporting future ophthalmologists.
The Dr. V.K. and Rani Raju Scholarship provides a one-time financial award for a fourth-year medical student who matches in ophthalmology.
"After being introduced to ophthalmology and admiring my father's dedication to the care of his patients, I knew ophthalmology was the career for me," said Dr. Leela Raju. "I am very happy I can give back to the school that helped me realize my dream of being a doctor, honor my parents and support future ophthalmologists at Marshall University."
Dr. V.K. Raju was born in Andhra Pradesh, India, and graduated from Andhra University before completing his residency and fellowship in the United Kingdom. He is an ophthalmologist at Regional Eye Associates in West Virginia and Maryland and serves as a clinical professor of ophthalmology at West Virginia University in Morgantown, West Virginia, and an adjunct professor at the Johns Hopkins Wilmer Eye Institute in Baltimore, Maryland. Dr. Raju is president and founder of the Eye Foundation of America. Founded in 1977, the Foundation works in eye camps and masonry hospitals in more than 30 developing countries in an effort to eliminate avoidable blindness.
Rani Raju, also from Andhra Pradesh, India, has degrees in biology and English literature. She worked as an ophthalmic assistant for several years, and then as an office manager at the Monongalia Eye Clinic in Morgantown.
Dr. Leela Raju, earned her medical degree in 2003 from the Joan C. Edwards School of Medicine and completed her ophthalmology residency at the University of Pittsburgh Medical Center followed by a cornea and external disease fellowship at Baylor School of Medicine in Houston, Texas. Dr. Raju serves as a clinical associate professor of ophthalmology at NYU Grossman School of Medicine and medical director of ophthalmology at NYU Langone Eye Center in Cobble Hill and Staten Island. She also serves as secretary and education coordinator of the Eye Foundation of America.
For more information or to make a gift to the Joan C. Edwards School of Medicine, please contact Linda Holmes, director of development and alumni affairs, by phone at 304-691-1711 or by e-mail at holmes@marshall.edu. For news and information about the Joan C. Edwards School of Medicine, follow us on Twitter @MUSOMWV, like us on Facebook, or visit jcesom.marshall.edu.