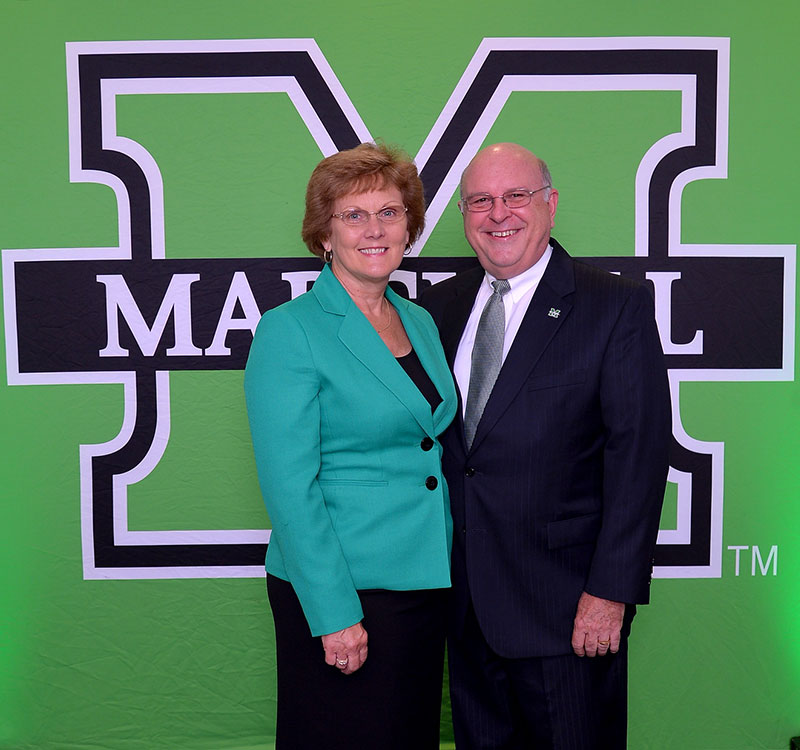 Marshall University, the Marshall University Foundation and the Marshall University Alumni Association are excited to announce Gary G. and Jo Ann White will serve as grand marshals for the university's 2023 Homecoming activities the week of Sept. 25-30.
"It is with great honor and gratitude we welcome Gary and Jo Ann White as grand marshals for our Homecoming celebrations," said Ron Area, CEO of the Marshall University Foundation. "Their steadfast commitment to Marshall University is unparalleled and we look forward to participating in our many Homecoming events with them later this month."
Highlighting their role as grand marshals, the Whites will lead the annual Homecoming parade at 6 p.m. on Friday, Sept. 29. The popular parade is set to make its way down Fourth Avenue in Huntington before ending on campus. The parade will be a part of a full week of activities for this year's Homecoming, "Super Marco: Level Up," celebrating the history of video games throughout the years, as well as celebrating Marshall "leveling up" in stature.
Gary White served as interim president of Marshall from December 2014 to January 2016. A Marshall graduate, White is a former member and past chair of the Marshall University Board of Governors, as well as an accomplished businessman and leader in the coal mining industry.
The Whites are eager to return to the Huntington campus as grand marshals having enjoyed their roles as president and first lady nearly a decade ago, as well as their many years of involvement with the university before and after their tenure.
"We have been blessed to have more than 30 years of service to the university in various capacities," the Whites said. "To be recognized for that service is indeed an honor."
Gary and Jo Ann White are both from Logan, West Virginia, and were high school sweethearts graduating from Logan High School. It was there they raised their daughter, Jennifer.
Gary White is the principal of JRW LLC, a consulting firm, and president and CEO of Gilbert Development Inc. The Whites have been active in many nonprofits and organizations. Jo Ann White currently serves on the board of directors for the Ronald McDonald House Charities of Huntington, and the Whites also operate the Gary G. and Jo Ann White Family Charitable Foundation.
Gary White was previously the executive vice president of Blackhawk Mining LLC. He was president and CEO of International Industries Inc. from 1992 to 2007. He also previously served as president and COO of International Resource Partners LP, a subsidiary of James River Coal Company, president and CEO of the West Virginia Coal Association, manager of underground mining at Amherst Coal Company and corporate training coordinator at Island Creek Coal Company.
Gary White serves on the board of directors for United Bank. He is a former member and vice president of the West Virginia Board of Education, and former member of the University of Pikeville Board of Trustees. He also served on the West Virginia Higher Education Policy Commission from 2013 until his appointment as interim president.
Gary White was one of four members of the Cabell Huntington Hospital Board of Directors who successfully negotiated Cabell's purchase of St. Mary's Medical Center. That purchase led to the creation of Mountain Health Network. He served as its interim CEO and conducted the national search to find its first CEO. Mountain Health Network and Marshall University recently announced an agreement in principle to form an academic health care system through the formal integration of Mountain Health Network, Marshall Health and Marshall University to form Marshall Health Network.
The Whites said they have long understood Marshall's cultural significance in the Mountain State when it comes to higher education and economic development.
"We always felt welcome and at home," Gary White said. "This atmosphere is the key to Marshall's substantial contribution to the state of West Virginia, most particularly, southern West Virginia. Marshall is positioned to lead our state into the new economy. Under the leadership of President Brad D. Smith, I am convinced a transformation will occur over the next several years."
In addition to the Homecoming parade, the Whites will also participate in other major events on and around campus leading up to the Homecoming football game against Old Dominion University on Saturday, Sept. 30. Other highlights of Homecoming week for alumni include the Unity Walk on Monday, Sept. 25; Party on the Plaza hosted by University Communications, the Alumni Association's 25th and 50th Class Reunion, Marshall StamFEED presented by Jenkins Fenstermaker PLLC, and Marshall University Black Alumni's Hall of Fame on Friday, Sept. 29; and the Marshall Alumni and Family Tailgate presented by Woodlands Retirement Community on Sept. 30.
In keeping with the spirit of the Homecoming theme and all the ways Marshall continues to "level up," the Whites said in a time where some colleges and universities struggle, Marshall's relevance continues to advance and set an example to others.
"Marshall continues to lead our state's universities into the next generation of higher education," the Whites said. "While this transformation began under the leadership of Dr. Stephen J. Kopp, President Smith has moved the bar exponentially to place Marshall at the forefront of responsible financial management and programmatic changes necessary to ensure our continuing success."
More information about this year's Homecoming can be found at www.formarshallu.org/homecoming.