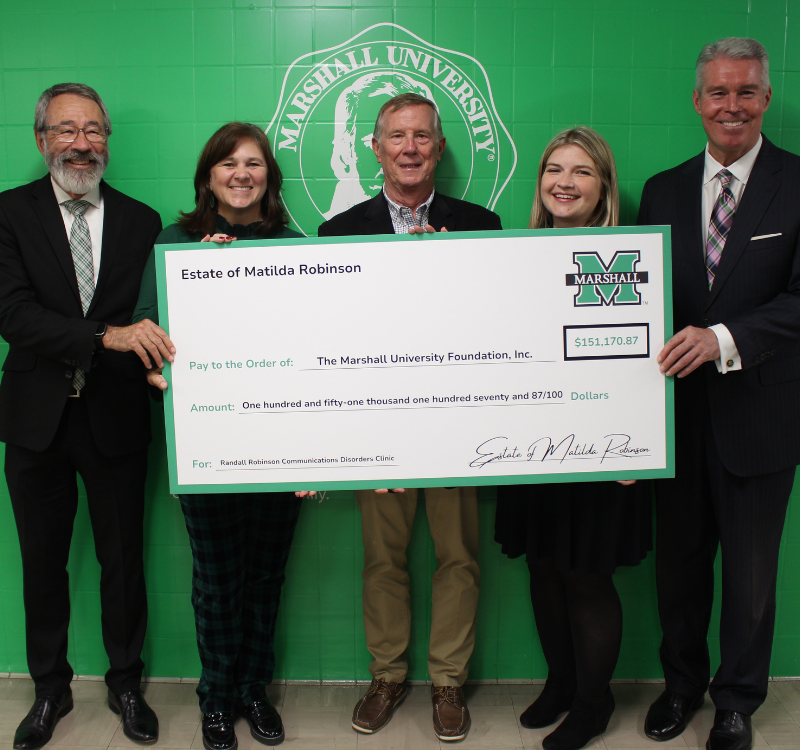 The Marshall University Foundation has announced a gift of $151,170.87 bequeathed by Matilda Robinson toward the Marshall University Speech and Hearing Center within the Department of Communication Disorders.
On Oct. 13, Michael Robinson, nephew of Matilda and Randall Robinson, posed for a photo with Michael Prewitt, dean of the College of Health Professions, which houses the Department of Communication Disorders; Pam Holland, chair of the Department of Communication Disorders; Sarah Clemins, associate professor and director of clinical education within the department; and Lance West, vice president for development for the Foundation.
Matilda Robinson was a 1950 graduate of then-Marshall College. She and her brother Randall Robinson were Huntington natives. Randall Robinson endowed a gift to the Speech and Hearing Center in 1992. He also established the Randall A. Robinson Scholarship to benefit students in the Department of Communication Disorders the same year.
When Randall Robinson died in 2004, he left funds for Matilda to gift at her discretion, which she then used to provide additional funding for the clinic after her passing in March of 2022.
"His donation provided the financial support to renovate our clinic," said Holland of Randall Robinson's initial gift. "It is quite common that students from other universities select our graduate program because of how impressed they are with our innovative clinic. I know this would make Randall proud.
"The new endowment will continue to support our program in various ways including student scholarships, faculty development and purchasing materials for our clinic. We could not be more thankful for the Robinson family."
Randall Robinson's decision to give to the Department of Communication Disorders and the clinic stemmed from the care he received through the Speech and Hearing Center as he had a stutter, Michael Robinson said.
"Having been in public education, I know how important the work you're doing is," Michael Robinson said. "So many children and families can piece together from the glue you provide."
Matilda and Randall Robinson saved their money and donated every cent to various nonprofits, Michael Robinson said. After graduating from Marshall, Matilda Robinson's first teaching job was in Logan County, West Virginia. She later studied in Chicago at the Moody Bible Institute. Randall Robinson worked in the carpentry profession.
To learn more about planned giving, visit marshall.mylegacygift.org.